Braithwaite House is a block of 1960s brutalist style flats in Central London.
Violet Kray, mother of the gangster Kray brothers owned number 43 on the ninth floor, and was the locations where Ronnie and Reggie were arrested in connection with gangland crimes including murder and fraud on 8 May 1968, whilst Violet and Charles were on holiday in Suffolk.
History
[
]
Built in the 1960s, this nineteen-storey modern tower block overlooking Bunhill Row, had become the new Kray family home by 1967. The edifice of concrete and steel, utterly in keeping with the architectural style of 1960s urban development, cast its long shadow over Bunhill Fields burial ground, the final resting place of such luminaries as Daniel Defoe, William Blake, John Bunyan and Susanna Wesley. Today, such soulless architecture is considered in a poor light, but back then, some of the new occupants felt lucky to have homes free of damp and mice, and with proper bathrooms. However, most didn't, and compulsory ''slum' clearance and re-development separated families, split communities and led to much social isolation and stress. Uprooting people who had lived in familiar streets or areas for generations. The Kray and Lee families had been relocated against their will gradually to their new accommodation, all of which would have been palatial compared to Vallance Road, despite lacking the much-missed character, history, memories and familiar community of the dwindling east east end.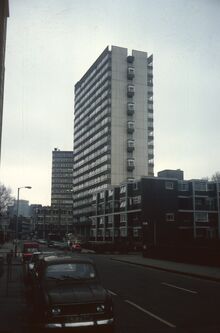 Violet and Charlie Snr were first to go, moving into Flat 43 of Braithwaite House, on the ninth floor. "If you'd seen our tears you'd have thought she was emigrating instead of going a short bus ride to a flat in Bunhill Row," cousin Rita Smith later recalled. Over time, the Vallance Road terrace that had seen so much happiness and sadness began to empty in readiness for demolition; Grandad and Nanny Lee, now in their 80s, had become stuck in their ways enough to be dragged protesting to a maisonette in Cheshire Street; Aunt May and Albert would later move to the brand new Charles Dickens House in Mansford Street, Bethnal Green, and cousin Rita ended up in nearby Blythendale House. Braithwaite House became the new centre of Kray operations, and the airy living room, with its huge picture windows commanding excellent views of the City of London, would immediately replace its cosy Vallance Road equivalent as a venue for regular Firm meetings.