97 Evering Road is a Victorian end-terrace house in Stoke Newington, London. A short distance away from Rectory Road overground station, it was built in 1877 by architect William Osment.
It is most famously known as where Reggie Kray, urged on by Ronnie, stabbed Jack McVitie to death in the basement flat, on October 28th 1967. McVitie, an occasional firm member and local villain had crossed the twins once too often including brandishing a sawn-off shotgun at the owners of the Regency Rooms Nightclub in nearby by Amhurst Road who were associates of the twins.
History
[
]
Edward Withers was to build 45 houses in Benthal and Evering roads in 1877, 42 in Norcott Road in 1880, 77 in Brooke and Narford roads in 1882, and 50 in Alconbury Road in 1883. Perhaps the biggest builder was William Osment, responsible for 21 houses in Evering Road in 1877, 46 in Fountayne Road in 1878, and 15 there, with 43 in Osbaldeston Road, in 1879. (fn. 66) By 1894 the isolated houses overlooking the common had gone and the last sites, in Geldeston and Durlston roads, were about to be filled with 116 houses by Osment.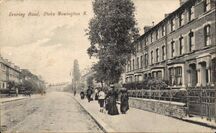 During the 1960s, the flat belonged to twenty-seven-year-old Blonde Carol Skinner who had lived in the flat since 1963. Skinner was a young lady who had been a cloakroom attendant at the El Morocco club, and whose boyfriend, George Plummer, worked at The Green Dragon Club. 'Big' Pat Connolly, after splitting up from his wife, was renting a front room from Winnie Harwood a few doors away at No. 113. Many of the Firm were frequent guests at Skinner's parties, which were held almost weekly, and it was where Albert Donoghue spent the night with Lisa Prescott after the death of Frank Mitchell.
Main article: The Murder of Jack McVitie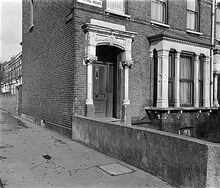 On 29 October 1967, McVitie was invited to a party at 97 Evering Road, Stoke Newington, London, with several of his underworld associates and their families. The Krays had secretly arrived at the party first and had spent an hour clearing away guests. Reggie Kray's initial plan to shoot McVitie upon entry failed. His gun jammed and, instead, he stabbed McVitie repeatedly in the face, chest and stomach as part of a brief but violent struggle. The twins quickly fled the scene and McVitie's body was deposited, wrapped in an eiderdown and left outside St. Mary's Church, Rotherhithe by Tony and Chris Lambrianou, and Ronnie Bender, who were minor members of the Firm.
When the Krays discovered the whereabouts of the corpse, they ordered it to be immediately moved, probably because of the close proximity of friend and associate Freddie Foreman. The body was never recovered, although in an interview in 2000 (which featured Reggie Kray giving a frank account of the activity of the Firm 12 days before his death) Foreman admitted to throwing McVitie's body from a boat into the sea at Newhaven, Sussex. He was also reported to have been buried in a newly dug grave at Gravesend Cemetery in Kent. The flat was redecorated by members of the firm, with the carpet, furniture and wallpaper replaced.
Present Day
[
]
The house still stands as it did in 1967, however it has been converted into flats, with the left-hand side of the terrace containing a central stairwell. The front door has the number 97a on it, suggesting a multiple occupancy use. Many Kray tourists visit the location for its notorious night in 1967.