"I have managed to outlive all my gangland bosses. I can't say I was affected in any way by their deaths. They had no impact on me. There's no point dancing on their graves."
―Albert Donoghue, The Kray's Lieutenant 1996
Albert Donoghue (5 November 1935 - 6 April 2016) was an integral member of The Firm and acted as Reggie Kray's right-hand man, minder, and chief executive. He also acted as a driver and money collector for the twins and would collect money from their various clubs in the West End. His surname is often misspelt as Donaghue in several books and newspaper articles.
Occasionally using the surname Barry (his stepfather's family name) to confuse the police, Donoghue was a known villain in the East End throughout the 1950s and 1960s. After a friend, Lenny Hamilton was badly hurt by the Krays, a remark was reputedly misconstrued as a threat against the twins, and Donoghue was shot in the leg by Reggie Kray in October 1964. Donoghue said nothing to the police and this, therefore earning his recruitment into the Kray's firm. One of the twins most trusted associates, he later turned Queen's Evidence against the Krays in their trail, after they tried to make him stand for Frank Mitchell's murder.
Early life
[
]
Donoghue was born in Dublin, Ireland on Bonfire night, November 5th, 1935, to a strict working-class Catholic family. The third of four children, the others being girls, his father, Joe, was a seaman and in the British merchant navy, sailing out to Belfast frequently. He died of pneumonia soon after moving the family to Stepney in London's East End when Donoghue was three years old. Soon after, Donoghue with his three sisters and their mother moved to Pitsea Street, Stepney in The East End his mother met another Irish man named John Barry from Hammersmith, with whom she married and had eight more children with. Albert would occasionally use the Barry surname to confuse the authorities.
During World War II, he was evacuated along with his siblings to Devon for four years, around Okehampton and Dartmoor. He then attended a strict Catholic boarding school in Orpington, Kent and for two final years, he was evacuated to Scarborough until the war ended. He spent time at Stamford House in Goldhawk Road, west London in the late 1940s. He attended Fairfield Road Secondary Modern School whilst living at Head Street, Stepney. At fifteen, Donoghue was in Wormwood Scrubs after numerous failed attempts to discipline him. He was used to violence from a young age and grew up to be considerably tall earning the nickname "Big" Albert. At eighteen, he joined the merchant navy as a deck labourer in 1953, after going through the Borstal system.
1950s
[
]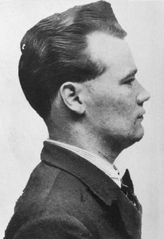 Starting out with a few villains on a small robbery, his main business was payroll snatches, operating in Bow, two miles east of Bethnal Green, the Kray's territory. The gang was commonly known as Harry Abrahams' Firm, until Abraham himself was sentenced to five years imprisonment. In the late 1950s, he began working at the racecourse betting pitches for Albert Dimes, Billy Hill's lieutenant, similarly to the twins, who had done for Jack Spot several years previously. He met his future wife when he was twenty-one, and she was seventeen. He was convicted of his first prison sentence on the 25th February 1958, for fifteen months for 'factorybreaking with intent', aged 23 at the time.
Donoghue's sister-in-law was married to Billy Donovan, a member of the Kray Firm and doorman at the Double R Club, and this is how he managed to come into contact with the twins. By 1961, Donoghue had met and married his wife, and it was at this time he had become a fully active criminal. Donoghue was good friends with Lenny Hamilton, who was badly burnt by a red-hot poker by Ronnie Kray, Hamilton, however, had not told anybody in the Abrahams gang who it was that had actually burnt him, so when Donoghue spoke out about the incident, he was unaware that it had been by Ronnie. In his book, he later stated that he said: "If they'd done that to me, I'd have blown their heads off." (The Enforcer: Secrets of My Life with the Krays, with Martin Short).
1960s
[
]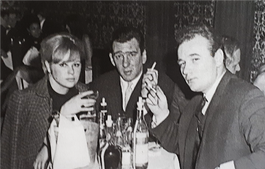 On 17 September 1962, Donoghue received a three-year prison sentence after being found guilty of attempted larceny of £3,000 during a payroll robbery and was sent to Pentonville Prison. Meanwhile, the Krays were informed of what Donoghue had said about Hamilton's torturer the previous year, and took it as a threat (they did not realise that he was unaware of who was responsible).
When released from prison in October 1964, Donoghue went for a drink in The Crown & Anchor in Cheshire Street, Bethnal Green, after he received a message the twins wanted to see him. He was drinking for a short while when he noticed people moving away from him, and was then shot in the leg from behind by Reggie Kray who entered the pub from behind him whilst Ronnie took him outside and held him to the ground. He was told to visit the twins later at Vallance Road, and was left in the pub.
With his leg in plaster after walking to the Royal London Hospital, Donoghue was put on a pension and subsequently given a place on The Firm, stopping his activity with his former gang. He later became the Kray's paymaster and enforcer, working for them throughout their most powerful and violent years. He would frequently visit the West End of London and collect money from the nightclubs that the Krays owned. He was used as a 'face' of the Kray gang so that people would know if a club was owned by The Firm. Donoghue would often work as a doorman for various different clubs that the twins were in charge of, once getting in a physical fight with Ian Barrie after he was attempting to flirt with another member of The Firm's wife.
Albert played a crucial role in Frank ''The Mad Axeman'' Mitchell's escape from Dartmoor prison. On Monday December 12th 1966, he and Teddy Smith had driven down to Dartmoor in Devon in a grey Humber, parked up at an agreed meeting place and Frank had walked round the corner and simply got in. As Donoghue says in his book, 'The Enforcer', Frank was allowed to roam the moor on his own but had always come back to the works party in which he was part of, who were out working on ditches and the like. This time was different however and they had no trouble in driving back to the East End. Donoghue would take supplies to the flat in Barking Road where Mitchell was being temporarily held. A young woman named Liza was supplied to keep Mitchell happy, but unfortunately, Mitchell, it is said, fell for her. Soon, Mitchell became very agitated and restless and wanted to get out and about to visit family and old friends. Despite his tough reputation, Donoghue knew he would never be able to stop Mitchell who had unusually phenomenal strength. After Mitchell started complaining that he was being ignored and began making threats about visiting Vallance Road if nothing was done about it and potentially causing a scene, The Krays decided Mitchell was too much trouble and asked Freddie Foreman, an old friend of the Krays from Southwark, South London, to "sort out" the problem.
At 8pm on the evening of December 24th 1966, a van arrived and parked in Ladysmith Avenue just around the corner from the flat in Barking Road. Inside were Foreman, Alfie Gerrard and two others. Donoghue escorted Mitchell to the van, even believing himself, that Mitchell was being taken to a safe house in Kent to meet up with Ronnie Kray for Christmas. The pair walked past a young police officer on his beat on the way around the corner but Mitchell remained calm Mitchell was told to get in the back while Donoghue was instructed to get in the front and explain to the driver how to get back up to the tunnel. Mitchell sat on a wheel casing opposite Foreman and Gerrard. Soon one of the other men got in the front with Donoghue and slammed the door shut. Unbeknown to Albert, this was a signal for the shooting to start. Foreman and Gerrard shot him numerous times but had difficulty killing him. Thinking he would be next, Donoghue suggested hopefully that they should stop the van and let him out which they did much to his relief but even as he walked away, he was still expecting one in the back of the head. He later made a phone call to Reggie Kray, stating 'that dog has won", meaning Mitchell was dead, to avoid police attention. The problem of the girl, Liza, who was worried about the noises from the shooting, was told it was the van backfiring. She was then sorted out later that evening, whilst worrying she would be killed next, Donoghue assured her and took her away from the flat, where they then spent the night together. Donoghue was one of the last people to see Frank Mitchell alive that night and was a witness to his murder.
Arrest and conviction
[
]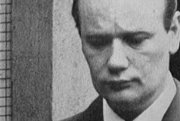 When Reggie Kray killed Jack McVitie, Donoghue helped redecorate the blood-soaked room that the murder occurred in. At the time of the Firm's downfall and the Kray twins arrest on the 8th May 1968, Donoghue was thirty-two and living on Devons Road in Bow.
He met The Krays in a custodial solicitors visit and handed them his notes on what had happened in the previous murders. Reggie Kray then proceeded to rip them up and told him they that they wanted Ronnie Hart to stand for the murder of Jack McVitie, John Dickson to stand up for George Cornell, and Donoghue was expected to take the rap for the murder of Frank Mitchell, but he told the twins directly that he was not prepared to be cajoled into pleading guilty, much to the anger of Ronnie Kray. Albert, who had become increasingly appalled by the violent turn the Twin's business affairs had been taking, testified against them.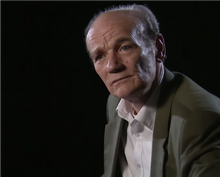 In December 1968, he then managed to inform Nipper Read via his mother who was back home in Bow, his evidence against the twins. Read set up another interview in secret and Donoghue was the first to tell the police everything that he knew. After being in remand for several months, he pleaded guilty to harbouring Mitchell and respectively received an 18-month sentence for his involvement in the McVitie and Mitchell affairs but subsequently was released in 1969 after doing around six months.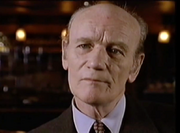 Even the killer of Frank Mitchell, Freddie Foreman, said that the Krays put Donoghue in a difficult situation but he handled it well. Foreman later admitted that the evidence Donoghue gave in court about Mitchell's murder was true. In the case of Lisa, when asked if he would have killed her if ordered to, he said that, yes, eventually he would have. Known for his brutal honesty, Donoghue was one of the only members of the Kray gang who told the truth and made no bones of his occupation as a gangster. He played a huge part in the rise of the country's most notorious criminals and witnessed their final descent into self-destruction.
Murder attempt
[
]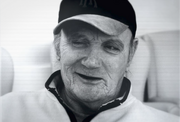 Donoghue has said that in the early 1970s Billy Amies, an old friend who he had served time with and worked on the sea with, were on their way to a nightclub opposite Rotherhithe Tunnel around one in the morning after a heavy drinking session in a few pubs in Bow, when near Tower Bridge. Whilst driving, Amies attempted to kill Donoghue, only for him to end up attacking Amies with his own weapon (a potato peeler.) Donoghue had severed an artery in Amies' lip, spraying blood all over the windscreen, whilst he escaped in fear of a backup car and explained the situation to the police at Fleet Street but nothing came of the incident, apart from a £25 fine. It was not mentioned in his book however, Amies' motive for attempting to stab Donoghue.
Later life
[
]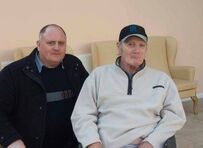 In 1996 Donoghue released an autobiography titled, The Kray's Lieutenant. Donoghue never hid from anybody, staying in his home area in and around the East End, later moving to Peckham and then Kent. Many assumed he had moved to Liverpool but he had actually remained in East London.
He later had a small industrial painting and decorating business doing subcontract (ironically as he helped re-decorate the flat Jack McVitie was killed in at 97 Evering Road.) In the late 1970s, he then began to occasionally burgle around the Oxfordshire area, stealing antiques, gold, and jewellery. He would then sell the items to antique shops in Reading. Donoghue would later keep a relatively low profile, appearing in several television documentaries on the twins, in 1994, 1997, 2000 and finally in 2015, where he appeared in poor health, having suffered a stroke and losing the use of his left arm. He was known to frequent the Railway Pub in Hornchurch in his later years.
In 2015, Paul Anderson portrayed Donoghue in Legend, as Reggie's right-hand man. He was also portrayed by Christopher Ellison in the 2018 film, The Krays: Dead Man Walking.
Death
[
]
Donoghue passed away in the early hours of 6th April 2016, in a hospital nearby to his care home in Redbridge, London, following a serious stroke. Alan Dixon, of the Krays' rival Dixons firm, paid tribute to his death.
Publications
[
]
The Enforcer: Secrets of My Life with the Krays, with Martin Short, Blake Publishing Ltd, 270 pages, 12 January 1996
References
[
]
Bennett, John. Krayology (2015). Mango Books.