Dame Barbara Windsor, DBE (born Barbara Ann Deeks; 6 August 1937 – 10 December 2020) was an English actress, known for her appearances in the Carry On films and for playing Peggy Mitchell in the BBC One soap opera EastEnders. She joined the cast of EastEnders in 1994 and won the 1999 British Soap Award for Best Actress. She left the show in 2010, before returning for three episodes between 2013 and 2015. Her character's final appearances were broadcast in June 2016.
Windsor began her career on stage in 1950 at the age of 13 and made her film debut in The Belles of St Trinian's (1954). She received a BAFTA Award nomination for the film Sparrows Can't Sing (1963), and a Tony Award nomination for the 1964 Broadway production of Oh, What A Lovely War!. In 1972, she starred opposite Vanessa Redgrave in the West End production of The Threepenny Opera. Between 1964 and 1974, she appeared in nine Carry On films, including Carry On Spying (1964), Carry On Doctor (1967), Carry On Camping (1969), Carry On Henry (1971) and Carry On Abroad (1972). She also co-presented the 1977 Carry On compilation That's Carry On!. Other film roles include A Study in Terror (1965), Chitty Chitty Bang Bang (1968), and as the voice of Mallymkun -The Dormouse in Alice in Wonderland (2010) and Alice Through the Looking Glass (2016).
Background
[
]
Windsor was born in Shoreditch, London, in 1937 (her birth was registered in Stepney), the only child of John Deeks, a costermonger, and his wife, Rose (née Ellis), a dressmaker. Windsor is of English and Irish ancestry. She passed her 11-plus exams gaining a place at Our Lady's Convent in Stamford Hill. Her mother paid for her to have elocution lessons, and she trained at the Aida Foster School in Golders Green, making her stage debut at 13 and her West End debut in 1952 in the chorus of the musical Love From Judy. She took the stage name Windsor in 1953, inspired by the Coronation of Queen Elizabeth II.
Her first film role was in The Belles of St Trinian's released in 1954. She joined Joan Littlewood's Theatre Workshop at the Theatre Royal, Stratford East, coming to prominence in their stage production Fings Ain't Wot They Used T'Be and Littlewood's film Sparrers Can't Sing (1963), achieving a BAFTA nomination for Best British Film Actress. She also appeared in the film comedy Crooks in Cloisters (1964), the fantasy film Chitty Chitty Bang Bang (1968) and in the sitcoms The Rag Trade and Wild, Wild Women. Windsor appeared as "Saucy Nancy" in the second series of the ITV children's programme Worzel Gummidge (1980), based on the books by Barbara Euphan Todd.
Relationships and personal life
[
]
Windsor has married three times:
Ronnie Knight, (married 2 March 1964, divorced January 1985)
Stephen Hollings, chef/restaurateur (married 12 April 1986 in Jamaica, divorced 1995)
Scott Mitchell, former actor and recruitment consultant (married 8 April 2000, widowed 10 December 2020)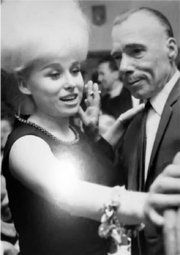 Before her marriage to Ronnie Knight, she had a one night stand with Reggie Kray and a longer affair with his brother Charles Kray. While married to Knight, she had a well publicised affair with Sid James; Knight is said to have threatened James with violence. Another of Windsor's Carry On co-stars, Kenneth Williams, accompanied her and Ronnie Knight on their honeymoon. During the 1960s, she had a brief relationship with footballer George Best.
In her 2001 autobiography, All of Me, Windsor talks about her five abortions, the first three of which took place before the age of 21, the last when she was 42. She has said she never wanted children as a result of her father rejecting her.In the book, she wrote that she is a supporter of the Conservative Party.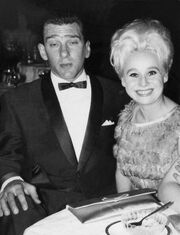 Over the years, Windsor made her home in a variety of locations. Amongst them, Sunday Times photographer Michael Ward's autobiography records her as living in Grand Parade, Harringay, in the early 1960s.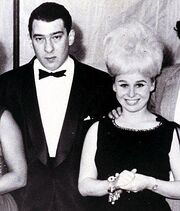 Windsor was appointed Member of the Order of the British Empire (MBE) in the 2000 New Year Honours. In August 2010, she was given the Freedom of the City of London, and in November 2010, she was honoured by the City of Westminster at a tree planting and plaque ceremony. In 2013 Windsor became a patron of the theatre heritage charity The Music Hall Guild of Great Britain and America. She was appointed Dame Commander of the Order of the British Empire (DBE) in the 2016 New Year Honours for services to charity and to entertainment.
In 2011, Windsor became a Patron of East London homeless charity Caritas Anchor House. In 2012, she became a patron of the Amy Winehouse Foundation, and in November 2014, she was awarded an honorary doctorate from the University of East London.