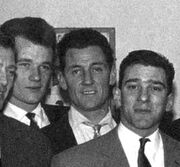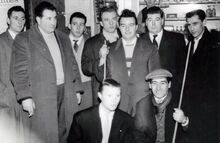 Billy Donovan was a member of The Firm in the late 1950s and early 1960s serving as the main doormen at The Double R Club. He was also the brother-in-law to Albert Donoghue, as the pair married two sisters.
Billy Donovan, whose silence after being assaulted by the twins in The Coach and Horses in the Mile End Road several years before had earned him their respect and a place in their inner circle, as well as a job on the door of The Double R Club. It was alleged that he nearly lost an eye during the fight with Ronnie Kray, with Johnny Carter also being involved.
Albert Donoghue's brother-in-law was Billy Donovan, a member of the Kray Firm and one-time doorman at the Double R Club, and over the course of a couple of years, the twins would drift in and out of Donoghue's criminal life as a consequence. It was through working alongside the likes of Harry Abrahams and Lenny Hamilton that he got to know about the incident with the latter at Esmeralda's Barn. He allegedly got into a drunken fight with George Cornell (then Myers) at some point, in a pub called the Barley Mow and had a row with a South London figure called Johnny Carter, who was associated with Jack Spot, when he ventured up to the east end to see the Twins at the Double R. The source said a Donovan was one 'tough, tough man'.
Community content is available under
CC-BY-SA
unless otherwise noted.