"The comradeship within the Firm was not improved when two of its members disappeared after trouble with Ronnie. One was his driver, a talkative young man called Frost…To this day, Frost (remains) on Scotland Yard's missing persons list" and later the book says: "the great (Scotland Yard) investigation, for all its thoroughness, seemed to have missed the biggest crimes… there was no hint of what happened to Jack Frost"
―John Pearson, The Profession of Violence
William Henry "Billy" Frost was one of the Kray twins' drivers during the 1960s. He knew the Krays on and off for around twenty-years, first meeting them as a young man when he was eighteen and the twins were sixteen at The Royal Dance Hall in Tottenham.
He was pronounced a missing person in John Pearson's book The Profession Of Violence but was in fact still living in The East End. Not only a driver, Frost would hide weapons for the twins in the fireplace at his mother's house.
History
[
]
Early Life
[
]
Born in Wapping, East London in 1932, Frost learned about weapons when he was in the army. He spent a lot of time shooting at Bisley shooting range and along with Billy Exley, were the two most trusted members of The Firm. He spent some time in borstal and was sent to Wandsworth in the 1950s for five years, where he met Frank Mitchell and the pair moved to Dartmoor together. Whilst in prison he met Eric Mason, Frankie Fraser and Roy Shaw. When his sentence was complete, the twins sent a Rolls Royce to pick him up, and a welcome home party and welcomed him back onto The Firm.
The Krays
[
]
Frost knew the twins over a period of twenty years from when they were very young boxers, where Frost recalls Ronnie hitting the referee and then proceeded to quit the boxing club. During the 1950s when Frost was a young man, he used to visit the dance hall in Tottenham called The Royal, where he first met Ronnie and Reggie. People came from all over London on a Saturday night, to drink. Ronnie got his first conviction in The Royal when he assaulted a man with a chain off a machine for manufacturing furniture (there were a huge number of furniture factories in Bethnal Green at the time). When Frost met him, he was on the run from the army.
Frost was then caught and had to go back to the army. When he deserted again and he was caught stealing a truckload of scrap metal and was sent to borstal, after which he went back to the army and then was arrested again for stealing a car. Frost was on a license from borstal and after he finished his prison sentence the prison service revoked his license from borstal and he served a further eleven months. After this sentence, one evening Frost was drinking at the 181 Club in Gerrard Street in the West End of London. He met Charlie Kray by chance. He then asked him how Ronnie and Reggie were, and he said they were working with Jack Scott and Billy Hill. Later, he met the twins again in the West End and they told him they did not want to be used by Jack and Billy anymore and they were going out on their own.
Frost was arrested once again, this time falsely when he was trying to help someone out who was selling cigarettes that came from Lee Green in South London. The police found the same red glass substance in his trouser turn-ups from the rear of a Wolsey car that was used to ram the shop the cigarettes came from. Terry Barnes pleaded guilty to it, but Frost was found guilty and got two years in prison. When he came out, he caught up with Ronnie and Reggie once again, by then they were involved in the race track and protection rackets. Frost has been referred to as The Kray's armourer, as he used to smuggle and hide firearms wrapped up in plastic bags in his mother's coal scuttle. The coal often got into the weapons which subsequently caused many of the guns to jam, perhaps this saved a few lives in the process. During the early 1960s, Frost lived with the twins for around five months, in Lea Bridge Road in a flat above Adam's Barbers. Soon Ronnie and Ian Barrie moved out to live with Charlie Clarke in Marlborough Road, Walthamstow.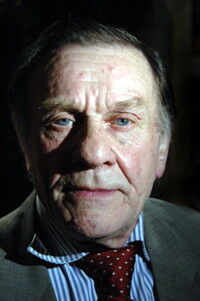 George Cornell
[
]
According to Frost, the feud between Cornell and Ronnie began when Cornell told a man, Micky Morris that Ronnie was after him and said 'You know he's a fat poof' which then got back to a furious Ronnie. He had word with Cornell about it, but then Cornell started telling other people, ignoring Ronnie.
Frost began driving the Kray's properly in 1962. One night, he drove Ronnie & Reggie to The Stork Club in Swallow Street. When they got inside, Cornell was sitting at a table on his own. Reggie went over and spoke to him, but Ronnie wouldn't go and sit with him. Frost and Ronnie sat at another table opposite and got a couple of drinks. Ronnie was mumbling but he was incoherent and Frost could not hear a word he said. Then we left The Stork Club after thirty minutes and went back to The Grave Maurice in Whitechapel. As they were driving back, Ronnie and Reggie did not say a word to each other, and when the group got into The Grave Maurice, the twins sat on their own and had a private conversation.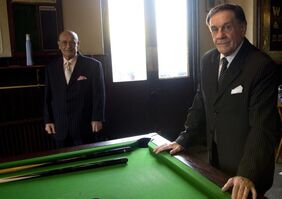 The following account of the hours before Cornell's death has many versions. Frost states that the day that Ronnie shot Cornell, Frost had taken a day off. He claims; it was about a week later, when Ronnie and Scotch Jack were driving round to The Lion in Bethnal Green, Ronnie saw Georgie Cornell's car parked outside The Blind Beggar in Whitechapel High Street. He told Scotch Jack to turn round and go to The Green Dragon where someone was keeping a gun for him. Then Ronnie walked into The Blind Beggar and shot George Cornell in the head.
Mickey Morris
[
]
""They were good times, though personally, I didn't like all the violence, but if you're going to do protection and be a villain then it comes naturally.""
―Billy Frost, 2010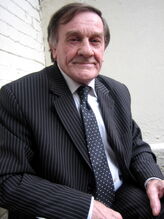 Frost was present when Ronnie said 'Has anyone got Mickey Morris' phone number? Will you tell him to come over, I want to give him a nightcap?' Micky came over and Frost poured him out a gin and tonic. Ronnie then unexpectedly punched Morris in the face, to which Morris said, 'I thought you was my friend, Ronnie?' Reggie got hold of him and pushed Morris into a storeroom. Then, Ronnie got him in a headlock and Reggie pulled out a big hunting knife and pushed it straight through Mickey's arm. Ronnie said to Reggie, 'Do it properly, stick it up his fucking guts!' Mickey allegedly howled when the knife went through his arm.
Frost said to Reggie, 'Look, there's people on the balcony opposite looking over and there's people in the bar who can hear, they're wondering what's going on.' Frost wanted to save Morris as he was a close friend. Bleeding profusely, Frost attempted to wrap his wounds with towels, but couldn't take him to the London Hospital, in case the police got involved as he had a warrant out for his arrest. Another member of The Firm took him to the hospital.
A couple of days later, Frost was driving along the Lea Bridge Road when Ronnie asked him to stop at Mickey Morris' house and to which he said to Mickey, 'Next time, it'll be done properly.' He claims once when he was staying the night at 178 Vallance Road and fell asleep on Reggie's bed, and later awoke to find him standing over Frost with a big Wilkinson's sword that he owned, standing in a fierce gesture of raising the sword with the practised conviction of a Shakespearean actor. Frost claims he told Jack McVitie to 'wipe his mouth and say no more' shortly before he was killed at 97 Evering Road.
Later life and death
[
]
Frost passed away on the 27th May 2016 aged 84, at St. Joseph's Hospice in Hackney, East London. His funeral service was held at the East London Crematorium, Grange Road in Plaistow, on Wednesday, June 8th.