Cedra Court is a block of 1930s flats in Cazenove Rd, Clapton. Ronnie and Reggie both owned flats one above the other in 1963, after moving out of 178 Vallance Road.
The flats are where Ronnie is said to have arranged orgies with young men with Conservative politician Lord Boothby, to which Ronnie received personal favours in return. The twins were famously captured striding out of the flats in 1964, in one of the era's most iconic photographs. 
History
[
]
Built in the mid-1930s in the Art Deco style, the twins moved in by 1963. Ronnie allegedly slept in a large four poster bed surrounded by various mirrors and decorations from all over the world, with also a fish tank and souvenirs from various holidays abroad scattered around the flat. He had moved into Flat 8 during the summer 1962, taking the tenancy out in Leslie Payne's name. This was his first time living independently away from 178 Vallance Road.
During the summer of 1963, Reggie rented Flat 1, immediately underneath Ronnie's, and Frances Shea lived here for some time. Leslie Holt also once had a flat in Cedra Court during the 1960s.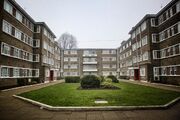 Present Day
[
]
Today, they have barely changed from when Reggie lived there with wife Frances Shea and Ronnie in the flat above. Because they conjure up Sixties London they were used as a backdrop for Legend (2015), in which they appear in multiple scenes, most importantly when Reggie buys Frances a new car and keeps it outside the flats. Flat prices now are estimated to reach up to over half a million pounds.