"When the war began in 1939, my dad went on the run from the army. He was eventually discharged twelve years later when he and thousands of other received their amnesty from the Queen. Ironically, Ron and I were on the run from the army when Dad received his amnesty."
―Reggie Kray in his autobiography Born Fighter 1991
Charles David Kray (10 March 1907 – 8 March 1983) also known as Charlie Sr. or Old Charlie Kray, was the father of the Kray brothers, Charlie, Reggie and Ronnie.
He married Violet Lee in 1926 and spent a large amount of time absent from the twin's upbringing as he worked away and was on the run from the army, whilst working as a wardrobe and jewellery dealer throughout the East End.
Early Life
Charles Kray was born in Shoreditch, East London in 1907 and in the 1911 Census, he was listed as living at 55 Essex Street, Hoxton, London with his brothers John George Kray, James John Frederick Kray, Albert Charles Kray and Alfred Kray.
His father, Jimmy Kray was a stallholder in Petticoat Lane Market. Charles' mother had been in domestic service in Highgate. Although the surname Kray is Austrian, most of his ancestry was Gypsy. Charles became a dealer in clothes and jewellery working alongside his father from a young age. His business card states that he took in a range of clothing for cash.
Marriage to Violet Lee
Charles and Violet married on the 6th March 1926 and Violet had lied about her age as she was not yet the legal age. The pair had sneaked off to the registry office in Kingsland Road with Charlie's friend and close neighbour Harry Hopwood as his best man. Jimmy Lee took the wedding badly, as he did not want his daughter associating with a Kray, damaging the relationship between the two of them.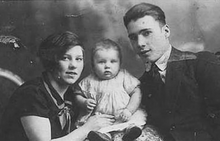 Violet could no longer live with her family after the wedding and so the newlywed couple moved to Hoxton where they stayed with Charlie's aunt Betsy and her husband George Cook at Charlie's childhood home at 40 Gorsuch Street. Violet was pregnant at this time, so it is assumed this is why the marriage was done quickly and in secret. On the 9th July 1926, four months after the wedding, she gave birth to her first son, Charlie Kray Jr. In December 1929, she gave birth to a baby girl, who passed away hours old. On Tuesday 24th October 1933, she gave birth to twins. Reginald arrived at 8.00 p.m. and Ronald came ten minutes later.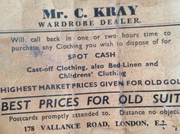 At the beginning of the Second World War, 32-year-old Charles Kray was conscripted into the army, but he refused to go and went into hiding and was, technically, a deserter for the next 23 years, often hiding in 178 Vallance Road when the local wardens came looking for him, notably one time in the understairs cupboard. Regarded by many as very serious and reserved, Charles would often attend the various clubs owned by the twins and can be seen in several photographs from this time.
Later life and death
Keeping a relatively low profile during the twins prolific era of the 1960s and subsequent arrest, he died seven months after his wife; it is said that he had pined for her ever since her death. To avoid the publicity that had surrounded their mother's funeral, the twins did not ask to attend their father's funeral in March 1983. The inscription, which is, in part, obscured, read: "May you both rest peacefully. Our love and memories are always with you. May God bless you both."
It has been said that he died of a 'broken heart.' He died just 7 months later as they were devoted to each other, two days before his seventy-sixth birthday. Charles and Violet had been married for over 50 years when he died on the 8th March 1983. They were both buried in the same grave in Chingford Mount Cemetery. In The Krays (film) (1990), he was portrayed by Alfred Lynch, and by Jon McKenna in Legend (2015).
Community content is available under
CC-BY-SA
unless otherwise noted.