Charlie Kray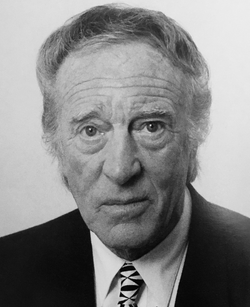 Other names
Charles Kray Jr.
Born
9 July 1926
Hoxton, London, England
Died
4 April 2000 (aged 73)
Newport, Isle of Wight, England
Cause of death
Natural causes
Occupation
Club owner, gangster
Spouse
Dolly Moore (b. 1929; m. 1964)
Diane Buffini (common-law wife)
"It's true that he reaped some benefits from being their brother, but he also paid a very, very heavy price."
―Diane Buffini, 2000
Charles James Kray (9 July 1927 – 4 April 2000) was the eldest of the three Kray brothers and played a part in The Firm's operations. He was also the front man for when the twins wanted to muscle in on a nightclub in the West End of London.
This eventually led to his imprisonment for his involvement with his brothers in 1969 where he received a ten-year sentence. He was released from prison in 1975 after serving seven years but was sentenced again in 1997 for conspiracy to smuggle £39 million worth of cocaine into the country in an undercover drugs sting. He passed away shortly afterwards in 2000 from heart complications.
History
[
]
Early Life
[
]
Charlie was born at 26 Gorsuch Street, Hoxton, East London in 1927 to Charles and Violet Kray. He lived most of his life in the long shadow cast by his brothers, who were seven years younger. In 1932 the family moved to Stene Street, near Kingsland Road, Hackney, The family then lived in Gorusch Street, Hackney, and later moved to 178 Vallance Road in Bethnal Green.
Charlie went to Laburnum Street school, where he was picked for the football team. Young Charlie was brought up on stories about fighting and boxing, and often dreamt of winning the Lonsdale Belt as Champion of the world. Fighting was a way of life in the East End. It ran in the family so it was inevitable that Charlie would keep up the tradition. Before the war Charlie worked for Lloyds as a messenger boy in the City earning around 18 shillings a week which is 90 pence in today's money, working five and a half days a week. When his father went on the run from the Army, Charlie was left as 'the man of the house' a role he wanted to fill as best he could.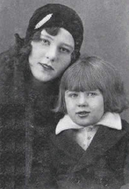 1940s
[
]
Charlie boxed as a welterweight for the Royal Navy against the Army and the Air Force in 1943, in which he represented the navy as a welterweight against the army and the air force, and encouraged the twins to join a local gym. It was something he later said he regretted. Charlie helped to train them and thought that the discipline that was being instilled would stand them in good stead in later life. Young Charlie soon took up boxing himself again and trained in the local gyms and his grandfather Cannonball Lee set up a punch bag in the top back room in Vallance Road.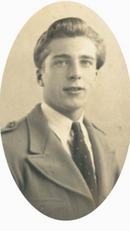 After a spell of rheumatic fever, he joined the Naval Cadets, where he continued training seriously. Then he joined the Navy where he boxed as a Welterweight. Charlie started to get terrible headaches and it soon he was discharged unfit from the Navy, on medical grounds, due to chronic migraines. When Charlie came out of the Navy he worked with his father on 'The Knocker' as a clothes dealer and carried on his boxing as a professional fighter. The twins by this time had also been making a name for themselves in the ring and on one occasion all three brothers appeared on the same bill. Unfortunately, Charlie lost his fight, the last professional fight he ever fought. The three boys shared the same room at 178 Vallance Road, Bethnal Green, and Charlie became, in effect, the twins' guardian during the World War II when they were evacuated from London. In 1940 Charlie, the twins and Violet were evacuated to Hadleigh, a small village in Suffolk which they grew to love. After around a year away from home, Violet began to miss her friends and family and decided to take the boys back home to London. The three Kray brothers were devastated about leaving the countryside and having to return home to a war-torn London.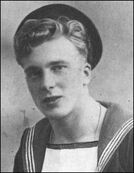 After doing his National Service in the Navy, Charlie went to work with his father Charles Kray as a clothes dealer during 1948. Now in his early twenties, he started to box professionally and had quite a few wins to his name. He met a girl called Doris "Dolly" Moore and married her on Christmas Day 1948, after which they moved into Vallance Road after converting the gym back into a bedroom. Charlie later said that "Dorothy was possessive, highly strung, had a vivid imagination and didn't make friends easily". The pair had two children Gary and Nancy, in which Charlie doted on his family and loved his kids above everything. Although his home life was shattered when he discovered Dorothy was having an affair with George Ince, he stayed with her for the sake of the family.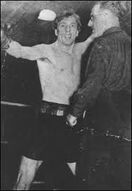 1950s
[
]
He started to look elsewhere for love and affection and found it in the arms of Barbara Windsor, star of the Carry On films and Eastenders. This affair didn't last because his children and their happiness came first and staying with Dorothy provided them with a stable background. This wasn't to last and arguments were a daily occurrence. Dorothy was still seeing Ince behind Charlie's back. In earlier arguments, she had said that Nancy wasn't his but then denied it when they calmed down. Charlie now knew that his daughter Nancy wasn't his own flesh and blood but he loved her just the same. In 1957 Ron was sent to prison for 3 years for GBH on a man called Terry Martin. Although the twin's separation had upset Reg it had brought him and Charlie closer together. Charlie provided funds for their new club, the Double R and played an active role in its development. However when Ron was released Charlie was again pushed into the background.
1960s
[
]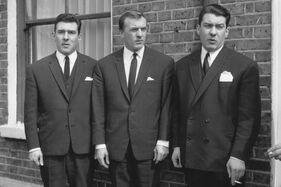 A good looking and affable man, he appeared to enjoy the glitz, becoming a confidant of Jackie Collins, Judy Garland, the boxer Sonny Liston and Christine Keeler. What Ronnie and Reggie learned, however, were the tools of intimidation. In his book, Me and My Brothers, Charlie described how he remonstrated with the boys for knocking out two men who had insulted a friend of theirs. "I should have saved my breath. They were not interested in what I had to say or what I felt." (Ronnie and Reggie were 14 at the time of this incident.) As the twins grew up, their reputation spread. In no time, they had developed from small-time gang leaders to running an extortion racket which they called "The Firm". Charlie claimed to have been a peripheral figure in this organisation. He did not mete out the beatings that the twins did, nor did he abandon them in disgust at their behaviour. Instead, he became his brothers' theatrical agent, responsible for booking acts at their bars and nightclubs, including The Double R. The twin's reputation was growing stronger and had just bought the Regal the first of many clubs to be owned by them. In 1960, Charlie was listed at 16 Brightlingsea Buildings, Narrow Street, Ratcliffe, Wapping.
Arrest and imprisonment
[
]
When the twins' empire came crashing down in 1969, Charlie is inevitably dragged down with them. On 8th of May 1968 Ronnie, Reggie and Charlie Kray were arrested (along with many other members of The Firm ) for the murders of George Cornell, Jack McVitie and Frank Mitchell as well as other lesser charges. Aged forty-one and living at 40 Thornfield House, Rosefield Gardens, Poplar, Charlie was accused of helping the twins dispose of McVitie's body on limited evidence. He denied involvement (and continued to do so for the rest of his life) but was jailed for 10 years regardless.
Later Life
[
]
After his release in 1975, he tried various ventures, including property development, managing a pop group, demonstrating cutlery at the Ideal Home Exhibition. His return to life with Dolly was something he couldn't really face and eventually, they parted. Nancy stayed with Dorothy and Gary came to live with Charlie. He started a relationship with a woman by the name of Diana Ward who he had met many years earlier. This relationship was to last for many years but although they loved each other as friends they fell out of love. In about 1986 he met and fell in love with Judy Stanley, a mother of 3 and 25 years his junior.

"I discovered that the minor irritations the name Kray had caused me before my sentence were now major problems," he said. "The name Kray spelt NO in giant capital letters, not only in London but throughout the whole country."Instead of fighting the notoriety, he decided to cash in on it, attending charity events and promotions, writing books and agreeing to make a film of their life story. Friends of the Krays say the twins frowned on Charlie for this and were angry that he did not put more effort into securing their release. What money he had he spent, which might have lured him back into the underworld.
He said he found life difficult and claimed he was "unemployable" because of his surname. He tried to run a pop group and tried his hand as a theatrical agent. He lived in Benidorm, Spain, for a while, tried property development and had a minor coup when he was hired as a technical consultant for the film The Krays. He was said to have spent the £100,000 he was paid within two years.
1997 imprisonment
[
]
In 1997, however, one year after his son Gary died of lung cancer, Charlie, aged seventy and living in Sanderstead, Surrey was arrested for attempting to smuggle £39 million worth of cocaine into the country, of offering the drug to an undercover policeman, and of supplying 2 kilos at £63,500. He denied this, and his barrister, Jonathan Goldberg, Q.C., described.
 Police believed he was linked to the production of amphetamines and counterfeit videotapes and pound coins; underworld whispers connected him to protection rackets. He was jailed at Woolwich Crown court for 12 years for his role in plotting to bring 2 kilos of cocaine worth £39m into the country along with builder Robert Field, and electrician Robert Gould. He was convicted of offering to supply the drug to undercover police officers and also of supplying two kilos of the drug worth £63,500. He claimed he was set up by the police. Nonetheless, he was found guilty and sentenced to twelve years at Parkhurst Prison on the Isle of Wight, which made him the oldest prisoner in Great Britain in maximum security.
Death
[
]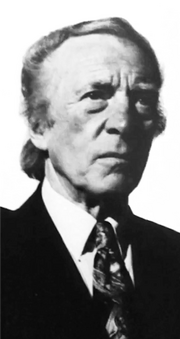 Three years into his sentence at the age of 73, he was in very poor health Charlie was admitted to Dryburn Hospital in Durham on 28th of July 1999 with a very bad chest infection. He remained there for a few weeks before returning to Frankland prison. He requested a transfer and was moved to Parkhurst on the Isle of Wight on the 20th August. Charlie suffered a stroke in 1999 and was readmitted to hospital in March following a heart attack. In March 2000, he collapsed and was moved to St. Mary's Hospital in Newport; where, one month later, in the presence of his girlfriend Diane (he had divorced Dolly for her adultery with George Ince) visited him. Reggie was taken to see him earlier this week - the first time they had seen each other since the funeral of Ronnie in 1995.
His health deteriorated over the coming months and his brother Reggie was moved to Parkhurst to be with him in his final hours. Charlie died on 4th April 2000 after complications due to his heart condition. His funeral was held at St Matthew's Church, Bethnal Green and he was buried at Chingford Mount Cemetery. Charlie's girlfriend, Diane Buffini, and two other friends were at his bedside when he died. One former criminal, who knew the Krays well, said: "It's plain wrong to say Charlie was the brains behind the Kray empire. Reggie was. Charlie wasn't like the twins, whatever others say. He was a gentler man."
Publications
[
]
Doing the Business, with Colin Fry, John Blake Publishing Ltd, April 1993, 240 pages
References
[
]
Bennett, John. Krayology (2015). Mango Books.