Christopher Lambrianou was a brief member of The Firm from The East End, and was present at the murder of Jack McVitie, receiving a sentence of life imprisonment with a recommendation to serve at least fifteen years in 1969, together with his younger brother, Tony Lambrianou.
A career criminal, after serving his fifteen years in prison for helping to dispose of Jack McVitie's body, Lambrianou was determined to go straight and worked at The Ley Community, a drug rehabilitation centre.
History
Early Life
The eldest of five brothers, Lambrianou was born on Christmas Day 1938, Lambrianou grew up around Howland Street, Fitzrovia, London to Christos Lambrianou (a Greek Cypriot) and Lilian Lambrianou (an Irish Catholic), who married in Camden on the 24th June 1965. Then moving to Soho, he was soon evacuated to the Midlands during the war, with his brothers. He had a criminal record going back to the age of nine when he had been bound over for one year for shopbreaking and larceny of food. His father Christopher was a Cypriot who had been sold into slavery at the age of 12. He escaped in Egypt and arrived in England as a teenager. He found work during the First World War in a Newcastle munitions factory, after which he trained as a chef in London.
A highly successful gambler, in the late 1930s Christopher Lambrianou bought a restaurant in Charlotte Street, in the West End. At this time he was also drafted into the RAF and was sent to work in the same Newcastle munitions factory, where he met and married Lillian, the daughter of a strict Roman Catholic farming family from Consett. By 1945 he had acquired another restaurant in Charlotte Street and seemed set for prosperity. However, two years later a rat was discovered in one of the restaurants and Christopher killed it by pouring boiling water over it. At the High Court, he was found guilty of cruelty and was forced to sell the restaurants to pay the massive legal costs. The family fortunes took a nosedive from which they were never to recover. Christopher picked up whatever casual kitchen work was available, but this did not prevent the family enduring a spell in a south London workhouse. In 1949 the Lambrianou family was re-housed in a flat in bomb-ravaged Haggerston, not far from Tony's birthplace in Bethnal Green. Despite Lillian's ferocious defence of her sons, immersed in poverty and the detritus of war, the Lambrianou brothers quickly acquired a reputation as toughs and petty thieves.
Criminal career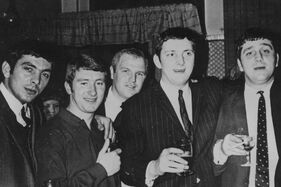 Throughout his teenage years, he went through the Borstal system and later a few spells in prison, convicted for offences such as housebreaking, being in possession of an offensive weapon, common assault and malicious damage. In 1960, he would be given a two-month prison sentence for living off immoral earnings, probably a result of his work with Frankie. Chris Lambrianou was a bit of loner, used to doing his own thing, but he had carved out a reputation around Hackney and the East End as a man to be reckoned with. At the time of his arrest, he was living at Queensbridge Road in Hackney.
Main article: The Murder of Jack McVitie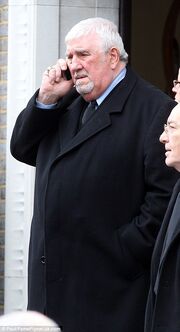 In autumn 1967 Tony Lambrianou and his brother Chris, as junior members of the Kray firm, were tasked with luring Jack "The Hat" McVitie to a flat in Stoke Newington, London, for a party. McVitie had been a nuisance and embarrassment to the Kray twins for some time, and in the chaotic atmosphere that enshrouded the firm in the wake of the Kray-engineered escape and subsequent killing of Frank Mitchell, Ron's shooting of George Cornell and the suicide of Reg's wife Frances, a further violent escalation was inevitable. McVitie had bungled a shooting for which the Krays had paid him, and his final mistake was in threatening the twins after ripping them off on a drug deal. Tony Lambrianou, along with most of the Kray firm, assumed that a punishment beating would take place, but Reg Kray first produced a handgun which failed to fire, and then proceeded to butcher
McVitie with a carving knife. The Lambrianous assumed responsibility for getting rid of the body, which was wrapped in a bedspread and placed in McVitie's car. Tony Lambrianou said that when they moved McVitie's body, the liver fell out and had to be burnt in the fire. Chris reckoned the liver had been 'skewered out'. Tony then drove the car to St Mary's Church, Rotherhithe, South London (narrowly missing police cars at some traffic lights) where the body was later picked up by Freddie Foreman and apparently given an informal burial at sea.
Arrest and conviction
When, in 1968, the entire Kray firm was mopped up by a special squad of detectives, Tony Lambrianou found himself under a media spotlight seldom afforded to such a small-time criminal. The ensuing trial at the Old Bailey saw several key members of the firm turn Queen's Evidence, while the Lambrianou brothers remained staunch throughout, and received life with a 15-year recommendation. Lambrianou served 15 years in jail for his part in the murder of Jack "The Hat" McVitie in 1967.
Later life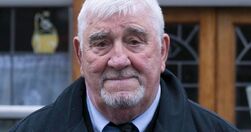 When Chris Lambrianou left prison in 1983, he had just served 15 years after being convicted of murder alongside the Kray twins. As a free man he began a new life, having become a born-again Christian while in jail. Eventually, he married. In time, there were children. They turned out to be twins, a boy and a girl.
Lambrianou is now retired and lives in Oxfordshire with his wife, Helen.