Cornelius 'Connie' Whitehead was a member of The Firm in the later years. He was present at the death of Jack McVitie at 97 Evering Road, although he took no part in it.
History
[
]
Early Life
[
]
Whitehead was born in 1937 and originated from the East End. Whitehead owned a gambling club in Aldgate and the Astor Club in Canning Town. In 1963, Whitehead was a suspect during the 'Jack the Stripper' murders. He had known Gwynneth Rees and had had a fight with her before the pair separated. After being found dead, this lead to Whitehead being a suspect, but there was little evidence against him.
The Firm
[
]
Towards the end of 1965, he had become close friends with the twins, and established himself in The Firm, working occasionally as a driver for both Ronnie and Reggie. By the time he joined the twins, he had several previous convictions, including two for dishonesty and one for assaulting a police officer. He had formerly worked as a docker, a porter and a labourer, and occasionally worked as a pimp.
He acted as Ronnie's driver for a short while, but he soon became suspicious of Whitehead during the events leading up to George Cornell's death at The Blind Beggar and was dismissed as a driver and he also received death threats from Ronnie Kray.
Arrest and conviction
[
]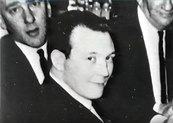 During the time leading up to the trial, the twins despised Whitehead and were at one time thinking of having him killed off. At the time of his arrest, Whitehead was living at Rosefield Gardens, Tower Hamlets, nearby to Charlie Kray. Despite this, Whitehead remained loyal to the twins and received seven years imprisonment as a consequence. He was sentenced to 2 years for the gun and 7 years for the complicity charge, aged 30 at the time.
Later life
[
]
It is known he became a successful businessman after his prison sentence and featured in a 1990 interview on the twins, and lives in Swanley, Kent. After he was released, he featured in another 2002 documentary on The Richardsons and gangland activity in 1960s London.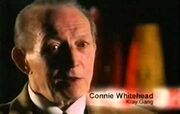 References
[
]
Bennett, John. Krayology (2015). Mango Books.