Edward Richardson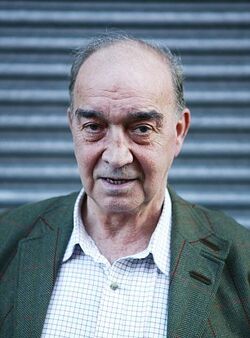 Born
21 January 1935
Camberwell, London (age 83)
Occupation
Scrap metal dealer, businessman
Victims
Various torture victims
Spouse
Maureen Richardson (m. 1956)
Edward "Eddie" George Richardson was a South London gangland boss along with his brother Charlie Richardson in the 1960's. Eddie was sentenced in 1967 to 15 years of which he served 11 years. This was the sentence passed by Sir Frederick Lawton, QC in the infamous "Torture trial" which to this day Eddie insists was a set up.
Eddie Richardson was for many years a dominant figure in Britain's criminal underworld. He was at the top of his game at a time when he who packed the biggest punch survived. He has spent a total of twenty-three years in jail, most of them in high-security blocks.
Richardson was born in Camberwell, London to Eileen Elizabeth Mary (née Allen) and Charles Frederick Richardson, who had married the previous year in Camberwell, South London. Charlie Richardson had already been born, and followed by Eddie was their youngest sibling, Alan (born 1940). Charlie and Eddie turned to a life of crime after their father deserted the family. His grandmother, Lizzie, had a sweets and tobacco shop, which his mother, Eileen took over.
The family lived first at Wren Road in Camberwell, then moved to a flat in Wyndham Road when the Second World War broke out. Later they moved to champion Hill and when Eddie got married he moved to Sidcup. When they were older Eddie and his elder brother (and partner in crime) Charlie would hang around boxing clubs like the Fitzroy club on the Walworth road or go to the Locarno, later named The Cat's Whiskers (and now Caesar's) in Streatham.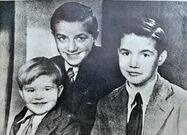 From the Elephant & Castle to Eltham and Greenwich, where Eddie bought a scrap yard called KWP Metals when he was released after his first stretch in prison, there was nowhere in South London the Richardson's hadn't been or that wasn't their patch. He married his wife, Maureen in 1956, when he was twenty years old, at St Giles Church, Camberwell.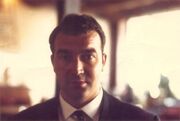 The brothers started out in the scrap metal business. Their induction into crime proper came when they started running "long firms" on the side – a type of fraud that involves setting up a business, giving it a good name, paying for goods up front to earn the trust of suppliers and banks so that credit is easily available, and then 
stinging the bank and suppliers at the same time. From scrapyards, the Richardsons diversified into crimes such as extortion, fraud and torture. Eddie went into the fruit machine business with Frankie Fraser, then into porn magazines, peep-shows and movies.
While Eddie and his brother Charlie worked together, they rarely socialised together.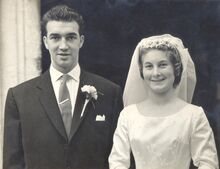 Later on, the Richardson's ran a string of clubs from the Cavern in Lordship Lane, Dulwich, to the Orange Club in Walworth Road and The Shirley Anne in New Cross. At the peak of their empire, they were a formidable force with henchmen like "mad" Frankie Fraser only too willing to do their bidding."Today, I would not like to meet the likes of me as I was then" says Richardson in his recently published autobiography, The Last Word: My Life As A Gangland Boss.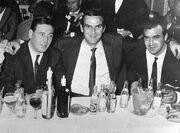 Eddie was sentenced in 1967 to 15 years of which he served 11 years. This was the sentence passed by Sir Frederick Lawton, QC in the infamous "Torture trial" which to this day Eddie insists was a fit up. He served time with Reggie Kray in Leicester Prison in 1971. Both in the security blocks, the pair played table tennis together whilst the tabloid newspapers still reported the feud between the gangs. In 1989 he was sentenced to a further 25 years for conspiring to import drugs, this time he served 12 years.
He lives an unassuming life in Beckenham, the place where his mother lived out her last years and the location he headed when he was finally let out of prison on parole in 2001 at the age of 65.
He was released in 2001. Eddie learnt to paint in prison and has become a critically acclaimed painter and now produces artwork both commissioned and of his own volition. Eddie also lectures about his former life and has become a popular after-dinner speaker, and is now being backed for the Freedom of the Borough of Southwark.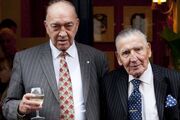 Richardson was nominated for the Freedom of the Borough of Southwark, after he helped to raise funds to fight Motor Neurone Disease, supported the Multiple Sclerosis Society and helped disadvantaged children. He was also pictured in a verbal argument with Freddie Foreman in 2017 at New Camberwell Cemetery in South London for the funeral of Great Train Robber Tommy Wisbey, who died aged 86.
Community content is available under
CC-BY-SA
unless otherwise noted.