"Some of my fondest memories are of the nights I would take Frances to the cinemas in the West End of London. We would go to the Odeon in Marble Arch and in the darkness, once we were seated, I would glance round at Frances, who had the most beautiful brown eyes I have ever seen, and Frances would know I was looking at her, and she would smile as though pleased. Little things like this are what true love is really all about, and the secret type of incidents that make one's heart sing."
―Reggie Kray, Born Fighter 1991
Frances Elsie Kray (neé Shea) (23 September 1943 - 7 June 1967) was the first wife to Reggie Kray, and the pair married on the 19th April 1965 at St James Church, Bethnal Green. Her marriage to Reggie Kray lasted only eight months when she left, although the marriage was never formally dissolved.
Her father, Frank Shea Sr., had run the gambling at The Regency Club in Stoke Newington, which is how she came to the attention of the twins. Her brother Frank Shea occasionally worked as a driver for the Krays and The Firm. An inquest came to the conclusion that she committed suicide in 1967, aged 23.
Early Life
[
]
Frances was born in 1943 in Hoxton, London to Elsie Shea, a Shoreditch born twenty-one-year-old seamstress and Frank Shea Sr., a woodworker (aged twenty-six at the time) from Hoxton but of Irish descent. She was born at 57 Ormsby Street and was baptised on the 17th October 1943, by Father Henry Wincott. Frank Shea, her brother was born a month after World War II was declared and worked as an occasional driver for the Krays during the early 1960s. Frances first met Reggie Kray when she was sixteen through her brother but the pair did not become close until the 1960s.
1960s
[
]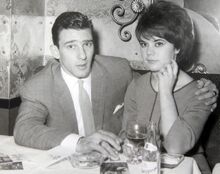 In 1960, Reggie and Frances were in a relationship after she had left school and worked at the Strand in a clerical job. In February 1960, Reggie took her to the Astor Club in Mayfair's Berkeley Square and in May that year they visited Jersey for a holiday. Frankie, Frances' brother had known Reggie for quite some time and he had been offered the chance to work in the Wellington Way club.
Reggie proposed to her in 1961, at Steeple Bay in Essex, when she was eighteen and he was twenty-seven. She refused, considering herself to be too young for marriage.  
In May 1964, Pete Whelan, a then 21-year-old printer's apprentice from Clerkenwell, met Frances, then 20, at a Hackney Wimpy bar. He fell for her beauty and asked her out, sparking a fun three-month relationship, which included romantic trips to the theatre or pubs. Sometimes, when he dropped Frances off at her house, he would notice an MG Midget patrolling the street, driving past the parked van, but he thought nothing of it. 
Reggie took her to Barcelona and to Milan and, in February 1965, he proposed to her again; this time, she accepted.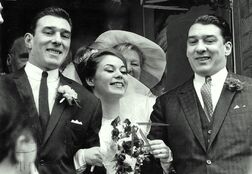 "Not merely was there not the faintest hope of either of them finding happiness together, but I could see them causing serious harm to one another"
―Father Hetherington, 1970
Frances and Reggie married on the 19th April 1965, at St James The Great Church in Bethnal Green when Frances was 22 and he was 31. The first priest, Father Hetherington they asked to officiate refused to do so, but a second one accepted. Many attended the wedding and this has been well documented in the photographs. Members of The Firm appeared, such as Pat Connolly and Limehouse Willy, as well as many of the Kray and Lee family, including Charlie Kray and his son Gary. Described as "The East End wedding of the year", the nuptials, despite the weather, drew large crowds, all eager to catch a glimpse of the capital's toughest criminal and his Bardot-esque bride. Frances wore a demure ivory satin and guipure lace gown with a short veil and perfectly coiffed beehive. Being attractive came natural to her, amongst other wonders.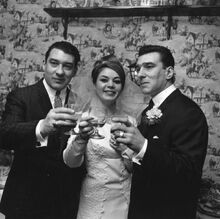 David Bailey was the official photographer (the only wedding he has ever worked at) and celebrity guests, including actress Diana Dors, arrived at the church in Rolls Royces. Twin brother Ronnie was best man, natch, and to help with the media frenzy, the place was surrounded by steely looking men called 'Big Pat' and 'The Dodger'. During the ceremony, some lacklustre hymn singing from guests was dealt with swiftly by minders venturing down the aisles and whispering firmly: "Reggie wants you to sing." Frances' mother Elsie, who was fiercely opposed to the match, wore black to the ceremony in protest. 
A lavish reception followed at a Finsbury Park hotel where a snap of a petite Frances squished between the towering Reggie and Ronnie became one of the most iconic photos of the age.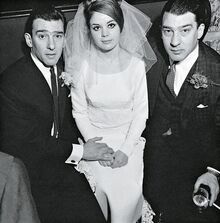 For their honeymoon, the couple stayed in an Athens hotel. Reg went out drinking most night, often leaving his bride alone in their hotel. A series of diary entries in Frances's own handwriting chronicle some detail of their troubled marriage. Three months after the marriage, Frances left Reggie and returned to live with her parents.
Reggie suggested a second honeymoon at the end of June in Ibiza. She agreed and on 5 June 1965, Frances went for an appointment at Hackney Hospital and seemed in higher spirits. The following day, she saw Reg and they booked the tickets at a local travel agent. They farewelled each other at her brother's flat and Reg went home.
Death
[
]
One month after that, she attempted suicide by taking an overdose of barbiturates. On this occasion and on one subsequent, she was revived; however, on the 7th June 1967, she commited suicide at Frank Shea's flat in Number 34 Wimbourne Court, Hackney. That morning of 7th June 1967, he took his sister a cup of tea, as he usually did, carefully placing it on the bedside table. She seemed to be still sleeping peacefully, so he went out to work.
Her parents told Reggie Kray that their daughter's last wish had been to revert to her maiden name, but he insisted that she be buried under her married name and wear her white satin wedding dress. However, Elsie Shea persuaded the undertaker to clothe the corpse in tights and a slip, so that as little of her body as possible would be in contact with the hated dress.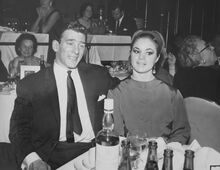 Funeral
[
]
Her funeral took place at St James The Great Church on Bethnal Green Road, the same church she married Reggie Kray in not two years earlier. Frances's funeral was as ostentatious as Reggie wished. At the time, the story went round that the funeral cost ran to £2,000 - the equivalent of around £30,000 today. Reggie ordered huge floral wreaths, one in a heart shape with red roses and white carnations going through the middle, the biggest one being a six-foot-tall wreath spelling out her name. It has been argued that Frances' death acted as the catalyst for Reggie's deterioration and spiral into excessive drinking, thus leading to the murder of Jack McVitie four months after her death.
Aftermath
[
]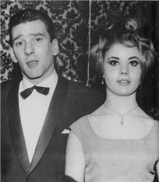 Before his arrest, Reg visited her grave, sometimes several times a day; and that, six months before his own death, when he was let out of prison to attend the funeral of his brother Charlie, he was photographed kissing her tombstone. It is rumoured that Reggie still held onto the tickets for their holiday until the day he died.
In 2002 an ex-lover and fellow con of Reggie Kray's came forward to allege that Frances was actually murdered by a jealous Ronnie. Bradley Allardyce spent 3 years in Maidstone Prison with Reggie and explained, "I was sitting in my cell with Reg and it was one of those nights where we turned the lights down low and put some nice music on and sometimes he would reminisce. He would get really deep and open up to me. He suddenly broke down and said 'I'm going to tell you something I've only ever told two people and something I've carried around with me' – something that had been a black hole since the day he found out. He put his head on my shoulder and told me Ronnie killed Frances. He told Reggie what he had done two days after." However, it is unknown if this story is true and should not be taken as fact, but as hearsay.