George Cornell
Born
13 November 1927
Stepney, London, England
Died
9 March 1966 (aged 38)
Whitechapel, London, England
Occupation
Fish porter, scrap metal dealer
Family
Billy Cornell (b. 1958)
Rayner Cornell (b. 1965)
Spouse
Olive Hudd (m. 1955; d. 1993)
George Cornell (13 November 1927 - 9 March 1966) born George Myers, was an English criminal and member of The Richardsons, who were scrap metal dealers and criminals from South London.
Cornell was originally a member of an East End gang called "The Watney Streeters" and later became involved with the Krays. However, he changed sides around 1964 and allied himself with the Richardsons. He is most prominently known for being the first victim of Ronnie Kray, after being shot at the Blind Beggar public house in Whitechapel, East London in 1966.
Ronald Kray was sentenced to life imprisonment for the murder three years later and remained in Broadmoor Hospital until his death in 1995. Jack McVitie was then killed a year later in 1967, by Reggie Kray.
History
[
]
Early Life
[
]
Cornell was born on the 13th November 1927 in the old boundary of St George In The East, in Stepney, London to Mary Ann Garrett and Joseph Cornell who were both unwed at the time. One of seven children (although records state eight), his older brother James would later say that their parents were not married and that he and his siblings changed their name by deed poll from Myers to Cornell who was their stepfather for a short period of time. Cornell often worked as a Billingsgate fish porter from the age of 12, and then at the nearby docks where he ran credit rackets and became friends with Lennie Hamilton and Billy Frost. He was a tough and loyal enforcer who worked for the Richardson Gang; and he was known for being totally fearless and was physically strong and good with his fists, a well feared experienced fighter. He did his National Service with Billy Wiltshire, the Kray twin's cousin.
Criminal Life
[
]
His first conviction (as Myers) came on 30 October 1944, for stealing chickens and in May 1945, he was imprisoned for three years for garage-breaking and larceny after stealing goods. In 1950 (as Cornell), he received his first prison sentence, of fifteen months, after being convicted at the Central Criminal Court for unlawful wounding and malicious damage.
In 1952, he received fines for assault and wilful damage and then in 1953 he was imprisoned again for shop breaking (stealing cigarettes and razor blades). He also assaulted two police officers and used insulting words and behaviour, getting off with a 40 shilling fine. George Cornell, as he is always known, would go on to face several more spells in prison, one for malicious wounding when he is believed to have slashed a woman's face with a blade. His last spell in prison was in 1963. He had met the twins in prison around before this but was never close friends with them.
Upon moving to South London he joined up with the Kray twins' rivals, the Richardson Gang, led by brothers Charlie Richardson and Eddie Richardson. Cornell knew all the traders in Mile End and the landlords of all the local public houses. He made his money setting up warehouses and buying goods on credit then selling them cheap and folding the business without paying his bills. Around six-feet tall, and with a wide neck, Cornell would often dress smart, often seen wearing Aquascutum suits and Burberry raincoats. He had been described as a 'sick sadistic bastard' that loved to inflict pain on his enemies. He allegedly once got 3 years in prison for slashing a woman's face. He was a heavy drinker and when he was drunk everyone would stay well clear of him.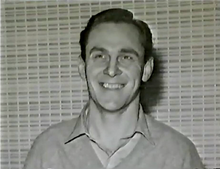 Cornell was alleged to have been heavily involved in drug dealing, in purple hearts and Dexys, uppers, downers and cannabis. He was also involved in the distribution of pornography and may have been associated with Jimmy Humphreys, who was responsible for the exposure of corrupt police officials in 1971, including Commander Ken Drury of the Flying Squad. Humphreys was under investigation by another squad, and Drury refused to acknowledge his association with Humphreys even after Drury reportedly received a "Wish you were here" holiday postcard from him. Cornell was originally a member of an East End gang called "The Watney Streeters" and later became involved with the Krays. However, he changed sides around 1964 and allied himself with the Richardsons. Cornell was unstable, unpredictable and nearly caused an all-out war between the two gangs before his death when Ronnie Kray shot and killed him in 1966.
Cornell, along with Richardson Gang colleague and friend "Mad" Frankie Fraser, became an enforcer for the Richardsons and was primarily used by them for talks with the Krays. Meetings were often held in pubs such as The Grave Maurice. Cornell left the East End in 1955 when he married wife Olive Hudd from The Elephant and Castle, and the pair moved to Masterman House In Camberwell, South London, where set up his family of three children in two flats, and also owned another house in the countryside. The Krays were angered that their erstwhile associate was now working with The Richardsons. His wife Olive was born on the 19th March 1934 and was the son of William James Hudd (died 2nd August 1965, aged 57). His son Billy Cornell was born in 1958, and daughter Rayner was born in 1965.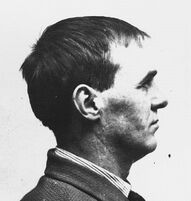 On March 8, 1966, there was a bloody confrontation between a gang from South London and the Richardson gang at Mr Smiths nightclub in Catford, South London. Richard Hart, a friend of Ronnie, was shot dead outside the back doors. Richardson gang member Frankie Fraser was charged with his murder but the charges were later dropped. There have been other stories of the feud between Ronnie and Cornell, including an incident at The Brown Bear public-house, in which Cornell knocked him unconscious (according to Lenny Hamilton). Another is the common story that Cornell called Ronnie a 'fat poof', which was later denied by Kray, who stated in an interview in Broadmoor in 1989, that this was not true, and Cornell had simply threatened to kill Ronnie, so he thought he would kill him first.
Death
[
]
Main article: The Murder of George Cornell
On 9 March 1966, Cornell and his friend Albie Woods were visiting their friend Jimmy Andrews in hospital who had lost his leg in a shooting. On the way back they stopped for a drink at The Blind Beggar public house in the Whitechapel Road, with another man, Johnny Dale. The three men entered the pub, ordered some light ales and then sat upon stools next to the bar. There were just five other customers in the pub, including a 79-year-old man was sitting at the other end reading a newspaper and half watching the television, and also a barmaid who was washing glasses and who had just put on 'The Sun Ain't Gonna Shine Anymore' by the Walker Brothers on the pub's record player.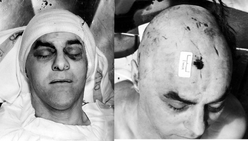 The Twins were having a drink with some of The Firm in The Widow's pub in Tapp Street. Ronnie received a phone call telling him that Cornell was in The Blind Beggar only a short distance away. He took Reg's driver, John 'Scotch Jack' Dickson and Ian Barrie, his right-hand man. They jumped in their Mark 1 Ford Cortina and set off for The Blind Beggar. On the way, they stopped to pick up some guns at 178 Vallance Road. At around 8:30 pm, both men were approached by Ronnie Kray and Ian Barrie; upon seeing him, Cornell smiled and said sardonically, "Well, just look who's here". As a warning to the barmaid and the few others in the pub, Barrie fired two shots into the ceiling, while Kray walked towards Cornell, took out a 9mm Luger, and calmly shot him once in the top of the forehead, above his right eye. The men turned and departed to a car waiting on the street, driven by Jack Dickson.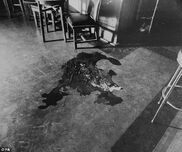 The bullet, apparently, passed straight through him, before he fell to the floor. The manager of the pub, a man called Patsy Quill, called an ambulance and it wasn't long before he was being seen by doctors across the road in the London Hospital. They quickly had the patient transferred to Maida Vale Hospital which specialised in brain injuries but at 10.29pm, and roughly two hours after he had been shot, Cornell died before any operation took place. His wife later in a fit of rage threw a brick through the window of 178 Vallance Road. Ronnie went back to The Widow's and told Reggie what had happened. They then went to The Chequers public-house where they got cleaned up and changed their clothes. The news on the radio confirmed that Cornell was dead. Ronnie's clothes were burnt and the 9mm Mauser was given to the cat-burglar Charlie Clark to be disposed of.
The news spread rapidly. Although Ronnie Kray was identified by several eyewitnesses as he calmly left the public-house, no one would agree to testify against him and the police were forced to release him from custody. At the time of his death, George Cornell was living at Masterman House, New Church Road, Camberwell, with his wife Olive and their two children. Cornell was buried in Camberwell New Cemetery, south London.
Old Bailey trial and aftermath
[
]
On 4 March 1969, Ronnie Kray was unanimously found guilty by a jury at the Old Bailey of the murder of George Cornell. His brother Reggie was also found guilty of murdering Jack McVitie, who was killed the year after Cornell. They were both sentenced to life imprisonment.
Ronnie Kray died in jail in March 1995, while Reggie Kray was imprisoned for a total of 32 years before he was released from custody on compassionate grounds in August 2000 as a result of cancer, from which he died a few weeks after his release. Olive Myers Cornell, Cornell's wife was widowed in her 20s with a son of seven and six-month-old baby daughter, she allegedly "never recovered". She died from cancer aged 59, in Spain on the 30th July 1993. Cornell's grave was allegedly damaged as a revenge attack by vandals in 2017. In August 2011 Cornell's daughter, Rayner Jane Rothery, along with her husband Anthony Briggs were jailed for her part in a 1.2 Tonnes of Cocaine and pleaded guilty to charges of money laundering and conspiracy to pervert the court of justice involving £10 million pounds in a £350 million Cocaine drug operation Detectives unpicked an international network stretching from London to Spain, Albania, the Caribbean and Colombia.
He was portrayed by Steven Berkoff in The Krays (film) in 1990 and by Shane Attwooll in Legend (2015).