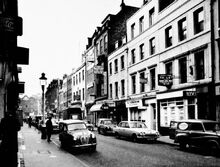 Gerrard Street is a long road in Chinatown, Westminster, that held The Hideaway club, owned by the twins. It forms part of the opening scene of Legend, where Ronnie and Reggie are being driven by Albert Donoghue, down the street.
John Dryden (1631–1700) lived for a while at 43 Gerrard Street, which is commemorated by a blue plaque. Another plaque, on number 9, marks the meeting of Samuel Johnson and Joshua Reynolds at the Turk's Head Tavern to found The Club, a dining club, in 1764. In fiction, Charles Dickens sets the home of Mr Jaggers, the lawyer in Great Expectations, in "a house on the south side of that street. Rather a stately house of its kind, but dolefully in want of painting, and with dirty windows [and with ...] a stone hall... a dark brown staircase ... dark brown rooms... panelled walls". A Royal Society of Arts blue plaque commemorates Edmund Burke at 37 Gerrard Street.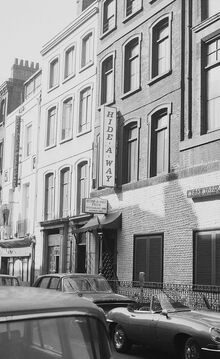 In the Roaring Twenties, the 43 Club was set up at number 43, as a jazz club notorious for outrageous parties frequented by the rich and powerful. It was eventually closed down by direct order of the Home Office and the proprietor, Kate Meyrick, was imprisoned. Ronnie Scott's Jazz Club started in Gerrard Street in the basement of No. 39.
In 1953, No. 4 Gerrard Street was a small studio where the theatrical photographer George Harrison Marks and his partner Pamela Green, lived and worked. By the late 1950s, with the success of Kamera Publications, they had taken over No. 5 next door and had a much larger studio on the top floor. In the early 1960s the ground floor at No. 4 became a gallery. The director Michael Powellcopied their sets for the classic film Peeping Tom, in which Green also starred.
A basement in Gerrard Street was the location of the first rehearsal of Led Zeppelin in August 1968, where they played "Train Kept A-Rollin'". The exact location of the basement is unknown, and it is believed to have been converted into business premises many years ago.
Community content is available under
CC-BY-SA
unless otherwise noted.