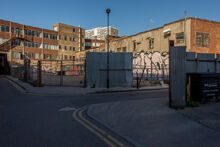 Gorsuch Street formerly known as St John's Terrace until 1908, is a tiny little thoroughfare squashed between Kingsland Road and Hackney Road in Hoxton, East London. The Kray family settled down at 40 St John's Terrace (called Gorsuch Street after 1909) during the early 1930s, and the street would be home to several generations of the Kray family in the decades to come. Nothing is now left of the street as the original buildings that once stood were demolished or bombed during the war. Charlie Kray was born at number 26 on the 9th July 1926. The family then moved to 68 Stean Street where the twins were born.
The young Violet Lee and Charles Kray married on the 6th March 1926, and with Violet lying about her age (as she was not yet eighteen), the couple had sneaked off to the registry office in Kingsland Road with Charlie's friend and close neighbour Harry Hopwood as best man. Here they became man and wife, seemingly without anyone's blessing but their own. Jimmy Lee took it badly and, as far as he was concerned, Violet was no longer his daughter. Of course, living with her family after the wedding was not an option for Violet and her new husband; however, there was obviously a place for them back in Hoxton and they moved in with Charlie's aunt Betsy and her husband George Cook at Charlie's childhood home at 40 Gorsuch Street. There were a number of branches of the Hopwood family in Gorsuch Street at this time. Harry lived at No. 28. Also by this time, James and Louisa Kray, Charlie's parents, had moved a few doors down to 26 Gorsuch Street.
It is clear that Violet was pregnant by this time, and this may explain the secrecy and swiftness of the marriage. On 9 July 1926, four months after the wedding, she gave birth to a son, Charles James. The new arrival, probably to Violet's relief, produced a softening in her father's attitude; secretly he would ask the family how his grandson was getting on, although – stubborn as ever – Jimmy Lee still refused to talk to Charlie. In fact, he was determined that he would get his Violet back whether she was married or not, and one night he went with his eldest son, Joe, to 'rescue' her. On arriving at the house in Gorsuch Street, it sounded as though a party was going on inside. After knocking at the door, Jimmy shouted out that he wished to speak to his daughter, only to hear the voice of old Jimmy Kray say, "Tell the old bastard to fuck off." Jimmy began kicking violently at the front door and if Joe hadn't talked him out of it, he undoubtedly would have smashed the door in and wreaked havoc.
They say a change is as good as a rest and, by the early 1930s, Violet had begun to tire of living amidst the Kray family in Gorsuch Street. Her brother Joe had found vacant rooms at 68 Stean Street, Hoxton and moved in with his wife Cicely (Cissy) and young son Joe.
Community content is available under
CC-BY-SA
unless otherwise noted.