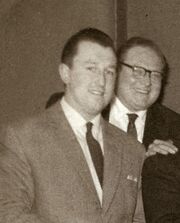 Harry Abraham was a brief member of The Firm, initially becoming a regular at The Regal, but according to Hamilton, Abrahams began to distance himself from the Krays around 1960 and set up his own firm specialising in security van robbery. His firm included Lenny Hamilton and Albert Donoghue, two later associates of the Krays.
Born in the East End, Abrahams lived with his mother, father and two younger brothers, His father was of Jewish descent and his mother was born in Swansea, Wales. His father Joe Abrahams was an ex-professional boxer and an army champion. Harry took up boxing in his early teens and had become a very good amateur, winning all his fights. He won most of them by knockout.
One night, Reggie and Ronnie were having a drink with Harry Abrahams, one of the regulars from the Regal, in a club in Tottenham Court Road and Abrahams was given some money to get a round of drinks. A thick-set African man started manhandling Abrahams after he had accidentally bumped into him at the bar and so the twins came to Abrahams' defence. Both were 'tooled up' – Ronnie had a long knife tucked into the waistband of his trousers and Reggie had a wooden police truncheon – and set about the African with frightening ferocity. Reggie was first, smashing the man across the head with the truncheon so hard that it broke and then Ronnie contributed to the mayhem, stabbing the African in the side twice as he lay on the ground bleeding profusely from the serious head wound. As the twins and Abrahams dashed out of the club to a car, they were followed by a few friends of the injured man, but a few punches settled the score and before long Reggie, Ronnie and Abrahams were away, heading for Vallance Road.
Lenny Hamilton had become part of Harry Abrahams' gang of robbers after Abrahams had begun to distance himself from the Krays' activities at the end of the 1950s. One evening in the Regency Club in Stoke Newington, Hamilton was with Abrahams and a number of his gang when an altercation broke out between Hamilton and a man named Bonner Ward (Buller Ward's son): this resulted in Ward attempting to cut Hamilton across the back with a razor in the toilets, failing, and having his nose broken in return. After Lenny Hamilton was burnt by Ronnie Kray, it was through working alongside the likes of Harry Abrahams and Lenny Hamilton that Albert Donoghue got to know about the incident with the latter at Esmeralda's Barn. Hamilton, however, had not told anybody in the Abrahams gang who had actually burnt him, so when Donoghue spoke out about the incident, he was blissfully unaware that it had been committed by the most dangerous member of what, at that time, was probably the most dangerous criminal organisation in London.
According to Hamilton, Abrahams began to distance himself from the Krays around 1958 and set up his own firm specialising in security van robbery. Abrahams had a wife called Jean who divorced him when she found out he had been attending all night parties with Albert Donoghue and a couple of other gang members and was using prostitutes.
Community content is available under
CC-BY-SA
unless otherwise noted.