John Dickson, or more commonly known as "Scotch Jack", was an ex-Royal Marine and a key member of The Firm, acting as Ronnie's driver.
He drove Ronnie and Ian Barrie to The Blind Beggar public-house the night that George Cornell was murdered in 1966. In addition, he was also one of Frank Mitchell's chaperones whilst he was in hiding from the authorities. He turned Queen's Evidence against the twins at the Kray's trial, after they attempted to make him stand for George Cornell's murder, but he was acquitted.
History
[
]
Early Life
[
]
Dickson was born in the dockland area of Leith, Edinburgh to a family of eight. He left school at fourteen and started to work for a local engineering firm. When he turned eighteen, he volunteered to join the Royal Marines. He trained for two years at the Commando School in Lympstone, Devon where he was prepared for active service. Shortly after he joined the 45 Commando and was shipped out to Malaya to fight terrorists. Then, after that, he volunteered to join HMS Newcastle to fight in the Korean War. He received three campaign medals, one for Malaya, Korea and a United Nationals medal. Leaving the Marines in 1955, he went back home to his family in Scotland. After attempting to settle into civilian life and trying a job as a 'rigger' for the Scottish Gas Board (setting up equipment for the engineers), then working with heavy machinery on a conveyor-type system for a local engineering company. Dickon moved to London from Edinburgh in 1964 after befriending Ian Barrie.
Barrie had also been thinking of moving to London and so the pair took their first steps into the great metropolis together, first taking accommodation in the somewhat seedy King's Cross area, a popular place for first-time Irish and Scottish migrants to settle, and later a flat on Brick Lane where the pair become acquaintances with the twin's uncle Alf, and were introduced to the twins in 1964.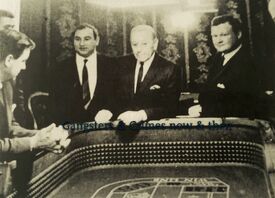 Ronnie was drinking in another pub when he learned of Cornell's location. He went there with his driver "Scotch Jack" John Dickson and his assistant Ian Barrie. Some accounts say that Ronnie got Dickson to stop at The Grave Maurice pub as if he was looking for Cornell in there; however, Dickson makes no mention of this in his memoir. Ronnie went into the pub with Barrie, walked straight to Cornell and shot him in the head in public view. Barrie, confused by what happened, fired five shots in the air warning the public not to report what had happened to the police. Just before he was shot, Cornell remarked, "Well, look who's here." He died at 3:00am in hospital.
Arrest and conviction
[
]
Eventually, a Scotland Yard conference decided to arrest the Krays on the evidence already collected, in the hope that other witnesses would be forthcoming once the Krays were in custody. On 8 May 1968, the Krays and 15 other members of their Firm were arrested.
Dickson was drinking in the Coach & Horses pub in Stoke Newington when he was arrested by Dept. Sup. Harry Mooney. Exceptional circumstances were put in place so as to stop any possible co-operation against any of the accused. Nipper Read then secretly interviewed each of the defendants and offered each firm member one chance to come to the side of law and order. Whilst in prison, the Krays had come up with a plan, which included Scotch Jack Dickson to confess to the murder of George Cornell, Ronnie Hart to take Jack McVitie and Albert Donoghue to stand for Frank Mitchell. Although Read knew for certain that Ronnie Kray had murdered George Cornell in The Blind Beggar pub no one had been prepared to testify against the twins out of fear. Upon also finding out the twins intended to cajole him, 'Scotch Jack' Dickson also turned in everything he knew about Cornell's murder. Although not a witness to the actual murder he was an accessory, having driven Ronnie Kray and Ian Barrie to the pub. The police still needed an actual witness to the murder. They then managed to track down the barmaid who was working in the pub at the time, gave her a secret identity and she testified to seeing Ronnie killing Cornell.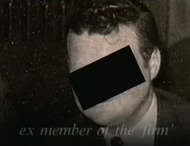 Later life
[
]
Limited photos of the camera-shy Dickson exist. He featured in a documentary about the twins, where he was interviewed in a park, but his identity was kept hidden, however. In his later years, he was a successful businessman and lived in the south of England with his wife. He had no children of his own but became a step-father to his wife's daughter and son until his wife's death in 2004. Jack lived in a retirement home in 2010 until he was later moved into his step-daughters home where he passed away in 2014. He was portrayed by Frankie Fitzgerald in Legend (2015), who interestingly did not speak with a Scottish accent.
Publications
[
]
Murder Without Conviction, Sphere, 1986, 164 pages
References
[
]
Bennett, John. Krayology (2015). Mango Books.