James "Jimmy" Charles Lee (1876-1971) commonly known as the Southpaw Cannonball Lee was the maternal grandfather to twins Ronnie Kray and Reggie Kray and Charlie Kray.
A famous East End boxer, he was also a renowned street entertainer and performer during his long life.
History
[
]
Early life
[
]
Lee was born in 1876 of Romany descent. His father also named James, was a butcher from South London and was also known as 'Crutcha' Lee. Crutcha suffered from epileptic seizures and he attacked his own family one time, resulting in him being put in Long Grove Asylum in Epsom, where he remained for the rest of his life (Ronnie Kray would later spend some time here.) Many said the reason he had the fits were from either excessive alcohol consumption or when he fell off a cart as a young man. Jimmy Lee did not drink alcohol all his life due to the incident. As he was a teetotaller which led to frequent clashes with Charles Kray, his son in law, who was known to be a heavy drinker.
Lee was more boxer than a fighter and took boxing up professionally for some time as a flyweight. At nine stone four, he would frequently take on anyone for a small bet of five pounds. He earned his nickname and reputation on strength of his right-hand punch, which his opponents he claimed, never saw coming. He was a forerunner for the Royal Air Force during the First World War, where he was involved in the Flying Corps. The name 'Southpaw Cannonball Lee' was used throughout his whole life and he was still practising boxing moves even when he was seventy-five, and he was allegedly just as eager at ninety-five.
Marriage
[
]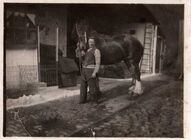 On 17 January 1898, Lee married Whitechapel born Mary Ann Houghton, who came from German and Irish heritage in Parish Church of Old Ford, Poplar, London. They had a son who was also called James, but he sadly convulsed died in his father's arms shortly after birth. Joseph Lee was born in 1899 and the family moved around East London multiple times, notably Mile End, Hackney and Bethnal Green. Lee soon gained recognition from his boxing and was nicknamed The Southpaw for his left hook.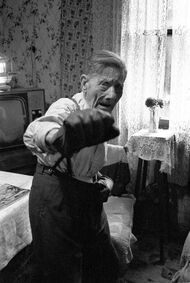 His first daughter Rose Lee was born in 1907, followed by Violet two years later, May in 1911 and finally John in 1914. Lee was listed as living at 137 Grove Road, Bethnal Green, London in the 1901 Census, and later 35 Chapman Road, Hackney, London in 1911, where Violet Kray was born. The family finally settled in London Street, Bethnal Green, which ran alongside the elevated train line to Liverpool Street Station.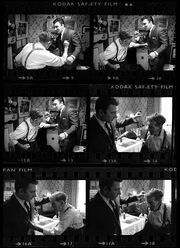 Lee also performed as a street entertainer, walking across beer bottles and putting out a white-hot poker on his tongue. He was also known to sing, dance and recite poetry, as well as perform tap dancing, singing and play a multitude of instruments. He once stated in Reggie Kray's East End Stories that "you're safe enough, long as you see the poker's white-hot. If it's just red, you lose your tongue". He performed around various music halls in the East End such as the People's Palace in Mile End, or the Pavilion on Whitechapel Road.
His final performance was at the Portsmouth Empire when he soon retired from entertaining and continued as a market trader. Lee was a bare-knuckle fighter, a legend in his earlier years. Later he became a showman and entrepreneur. He used to fascinate the twins with stories of when he boxed, bare-knuckle, for a few shillings, in Victoria Park on Sunday Mornings. When the twins reached adolescence, he set up an upstairs gymnasium in one of the back rooms at 178 Vallance Road, in which he trained the twins with a punching bag. He had always been a great athlete. Once, when his son Johnny drove a coach party to Southend, a distance of 42 miles, Grandad Lee turned up on his bike. He cycled there just for the fun of it. He was prepared to cycle home again but his son insisted he took the coach. He was seventy-five at the time.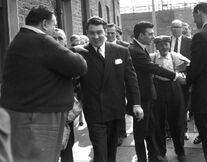 Later life and death
[
]
He died on his birthday in 1971, aged ninety-four after being moved to a maisonette in Cheshire Street, due to the terraces in Vallance Road being demolished around 1968. He passed away in Bethnal Green Hospital.
He was portrayed by actor Jimmy Jewel in The Krays (film) (1990) but was not featured in Legend (2015).
References
[
]
Bennett, John. Krayology (2015). Mango Books.