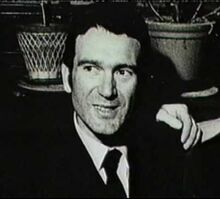 John George Pearson (born 5 October 1930 in Epsom, Surrey) is an English novelist and an author of biographies, notably of Ian Fleming, the creator of James Bond, and of the Kray twins.
Life and career
[
]
Pearson was educated at King's College School, Wimbledon, and Peterhouse, Cambridge, where he gained a double first in history. He then worked for The Economist, BBC Television and The Sunday Times. He was Ian Fleming's assistant at the Sunday Times and went on to write the first biography of Fleming, The Life of Ian Fleming, published in 1966.
Pearson was commissioned by Donald Campbell to chronicle his successful attempt on the Land Speed Record in 1964 in Bluebird CN7, resulting in the book Bluebird and the Dead Lake.
Pearson has also written "true crime" biographies, such as The Profession of Violence, an account of the rise and fall of the Kray twins, who had hired him to write their biography in 1967. Over the next several years the brothers, who by now were in jail, wrote frequently to Pearson. He wrote two further books about the Krays: The Cult of Violence: The Untold Story of the Krays and Notorious: The Immortal Legend of the Kray Twins.[3] In 2010 Pearson put up for auction more than 160 previously unseen letters and photographs from the Kray twins. The items sold for £20,780.
Another of Pearson's books, The Gamblers, is an account of the group of gamblers who made up what was known as the Clermont Set, including John Aspinall, James Goldsmith and Lord Lucan. Warner Bros. purchased the film rights to the book in 2006. The Gamblers was made into a two-part TV drama, Lucan, starring Rory Kinnear and Christopher Eccleston, broadcast on ITV1 in December 2013.
Pearson's book Facades was the first full-scale biography of the Sitwell siblings Edith, Osbert and Sacheverell. It was published in 1978.
Pearson has also written five novels. Storm Jameson praised his first novel, Gone to Timbuctoo, as "an unusually good first novel, an exciting story, and a splendid setting in French West Africa. The writing is sharp and witty." Malcolm Muggeridge said, "This is an exceptionally brilliant first novel - exciting, wryly funny and perceptive."
For his next three novels, Pearson did tie-in fictional biographies. Pearson also became the third official author of the James Bond series, writing in 1973 James Bond: The Authorized Biography of 007, a first-person biography of the fictional agent James Bond. However, Pearson declined an offer to write further Bond novels. Pearson then did fictional tie-in works about Upstairs, Downstairs (The Bellamys of Eaton Place) and Biggles.
Pearson has three children from his first marriage. He married his current wife, Lynette Dundas, on 17 December 1980.