Jonathan 'Johnny' Squibb was a lifelong friend of the twins, who assisted in a financial matter concerning The Boothby Affair, accompanying them to the court case. The twins continued to write to him whilst they were in prison and he featured in a documentary about the twins in the early 2000s.
History
[
]
Early life
[
]
John Squibb was born in Stepney, London in 1931 being the 2nd child of a family of 6. His father, Harry, was a decorated soldier having served his time with the elite commandos, The Highland Guards. His mother, Alice, was a dedicated housewife, who like many of London's East End, spent her time bringing up a family during the London blitz of World War 2.
John's childhood was spent roaming the bomb sites for pieces of scrap that he could later trade to provide a little help to the household fund. The war had just ended and Britain was in a deep depression, work was sparse and most families lived from day to day. Despite this, a community spirit existed in London's East end and people still found ways to enjoy themselves. Most had an attachment to horses as this was the preferred way to travel and work. John was no exception as his father was a wheelwright by trade and spent much of his time repairing the cart wheels that took their toll on the cobblestone streets. Along with the horses came the pigeons and most houses kept some form of loft. For many, it was in the form of the coal shed or out house that had been converted but in John's case, his father had the luxury of a good size race loft.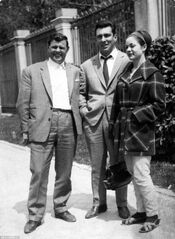 Johns relationship with his father was a tense one. John had his own mind and often did not see eye to eye with his father, and despite his love for pigeons he was not given access to the loft. His father would race every week and Johns role was restricted to say the least and eventually he was allowed a small loft that was no more than 2 square meters. Constructed of discarded orange boxes and old pallets it sat on top of the outside coal shed / toilet. From here John would compete against his father every week and most of the time, to his fathers annoyance, he would beat him. This competitive streak was to stay with John all his life and it could be said that this strict upbringing taught to him at a early age to stand on his own two feet and look after himself.
Marriage
[
]
Rose and John were childhood sweethearts, and met when they were just 15 years old. Born in Hackney, London in 1931, Rose was the inspiration for everything John did and achieved. They got married on Christmas Day when they were 19 years old and spent a lifetime together, never apart. True to the East End of London's tradition they were to have a good size family. 5 children in total, John, Linda, Gary, Bruce and Penelope (Penny). Squibb raced pigeons in his later life.