Leslie Stanley Holt was a cat burglar and former boxer from East London. He also had associations with the Kray twins during the 1960s.
He was for a short period of time, the Conservative peer, Lord Boothby's chauffeur and lover, whom he had a close relationship with.
History
[
]
Early life
[
]
Holt was born in 1937 to a poor family in Shoreditch. One of nine children, eight boys, and one sister, he spent his childhood in the wartime slums of the East End. An animal lover, he was finally sent away from home when he was eight years old when he had brought home a dog. Accompanying a friend, he stole a pack of dog biscuits on the way home, only for the friend to get apprehended by the police, who later told them who Holt was, subsequently being sent to an approved school.
Like many young men from this tough quarter of London, he had fallen into criminality at a young age and had spent plenty of time in Borstal, as well as in the ring as an amateur boxer under the name Johnny Kidd.
Main article: The Boothby Affair
Developing an interest for boxing, Lord Boothby first met Holt at a youth boxing match. As the years went on, Boothby took a liking towards Holt, who was now working as a successful cat burglar and a croupier in a casino in the West End. He bought nice cars in which he kept two large Dobermans in the back. Forming a closer relationship with Boothby, Holt slowly mixed with the aristocracy, all the while secretly robbing them and becoming a glamorous and somewhat flamboyant young man. Holt became a frequent visitor to Boothby's flat in Eaton Square. Boothy introduced Holt into opera, classical music, museums and the arts, a life he would never have experienced if he had not met him. Family members say he was "born poor, but should have been a Lord". Leslie was openly bisexual, perhaps forming part of the attraction from Boothby who wrote to Holt's parents to express his regards for their son.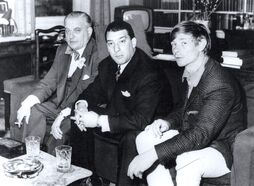 By the 1960s, the elfin, good-looking young man, who was flamboyantly bisexual, had carved out a career as a cat-burglar and rent-boy and as a 'man about town', Leslie Holt was, on the face of it, the epitome of the Swinging Sixties scene. His targets were the rich and entitled, and it was the wealthy patrons of London club life whose stolen property and sexual favours lined Holt's pockets. Importantly, Holt had once had a flat in Cedra Court, Cazenove Road, in Stoke Newington and by 1963, the handsome Art-Deco apartment building had acquired two new residents: Ronnie and Reggie Kray.
Until the early 1960s, politician's private lives had remained largely immune from press inquiry. Even the most flamboyant character such as Boothby joked about it until on the 12th July 1964, The Sunday Mirror printed a story about a homosexual relationship between a prominent Conservative peer, and a leading London thug, Ronnie Kray.

With photographs of the pair together seated together send in the next day, a scandal was looming. However, four weeks later the paper retracted the story. One night in February 1963, Boothby introduced Holt to Ronnie Kray who was seeking investors for a business deal in Africa. Boothby turned down the idea but the pair got on well. Over the next three years, their friendship developed until Boothy told Holt if he did not stop burglary, it would be the end of their relationship. Boothby resigned and the friendships disintegrated.
According to the papers, Holt was furious after being sacked by the peer and receiving just £200 of a £2,000 pay off and was threatened by Ronnie to keep the scandal secret.
Later life and death
[
]
Holt died in 1979, after a Harley Street doctor, Dr. Gordon Kells, administered a lethal and massive overdose of anesthetic whilst attempting to remove a verruca on his big toe. The overdose stopped his heart and was hit by pneumonia, however the doctor was cleared by the jury at the Old Bailey in July 1981. Kells died in 1997 from a heart attack. Holt's sister Pat Melbourne featured in the 1997 Channel 4 documentary The Krays: Lords of the Underworld in which she spoke about her brothers death.