Leslie James Payne (1924-1990) was a con-man who worked for the Krays during the 1960s. He acted at the twins business manager and encouraged them to broaden their empire into the club world, often persuading them to purchase casinos, clubs, and pubs, notably The Hideaway (later renamed El Morocco).
He considered himself a cultured man and he was sickened by the twins' violence and acted a key witness during the Kray trial in 1969 where he gave evidence against them after Ronnie Kray paid Jack McVitie to shoot him at his home in 1967.
History
[
]
Early Life
[
]
Payne was born in Conduit Mews, Paddington, London, on 7th January 1927. His mother was from a poor background and his father a rich one, who worked as a solicitor. Payne was an Infantry Sergeant during WWII and was present at the battle of Monte Cassino in 1944. After release from the army in 1947, he asserted himself as a suave and professional businessman.
The Krays
[
]
Payne first came into contact with the twins via his car dealership in Stratford. After a business deal went wrong in 1959, he met the brothers and demonstrated his skills of negotiation. He soon joined The Firm and was favoured more by Reggie than Ronnie. Reggie found him useful whereas Ron was sceptical of his presence in The Firm. He fell out with the twins in early 1966. Leslie Payne was a close associate of Ronald and Reginald Kray in the early 60s, the years of their real rise to power and wealth. In this rise, Payne played a vital part. The Krays were in truth little more than East End thugs with a certain native wit. Payne was an expert operator and fraudsman. He provided the brains and confidence necessary to conduct the activities - gambling and fraud - on which the 'firm' flourished; the twins provided the personnel, the gangland aparate. He eventually drifted away from the Krays, alarmed by their psychopathic violence. It was Payne who played a crucial role in the conviction of the Krays, after their attempt to have him murdered had driven him into the arms of the police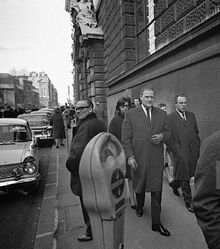 Murder Attempt
[
]
After he drifted away from them in the years leading up to 1967, Ronnie Kray offered Jack McVitie £500 to kill Payne as he believed Payne was going to contact the police about their criminal activities. Billy Exley drove Jack McVitie to Payne's house in Tulse Hill and McVitie was planning on shooting Payne when he answered the door. McVitie failed to do this, instead, spending the money on drink and pills and bragging about it instead which subsequently lead to his murder in October 1967. Payne gave evidence against the Krays during the trial due to the assassination attempt.
Later Life
[
]
Payne was known to have had two daughters and lived in a suburban house in Dulwich. In 1972 he was convicted to five years imprisonment for conspiracy to pervert the course of justice. At his trial, the manuscript of his book, The Brotherhood was produced in evidence and described by prosecuting counsel as a 'how to do it' book of crime.
Books
[
]

The Brotherhood, Michael Joseph, Hardcover, 173 pages, 7th May 1973 (rare)
References
[
]
Bennett, John. Krayology (2015). Mango Books.