Lisa Prescott, also known as Patricia Watson, was a young woman from Leeds who worked in Mayfair. She accompanied Frank Mitchell in 206a Barking Road in December 1966 after being chosen by the twins.
Early life
Edit
Lisa originally from Leeds moved to London in the early 1960s. She worked as a nightclub hostess and cigarette girl at the Bagatelle Club, and later Winston's and its sister-club, Churchill's in New Bond Street. She also worked in other clubs which shared management with Winston's, such as the Savoy in The Strand and The Minstrel in Beak Street, Soho. She was married to a man who she had seperated from and took his surname Polowski.
When
Frank Mitchell
was held at
206a Barking Road
, he was growing increasingly restless, so it was decided he needed a woman to placate him.
Tommy Cowley
regularly visited Winston's nightclub in Clifford Street, Mayfair, and knew many of its hostesses. He brought Lisa to the flats to accompany Frank, as he wished.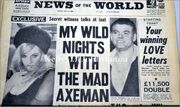 In 1966, Lisa was living in a flat in Craven Terrace, Bayswater with friend and fellow hostess Valerie Fiske. Lisa was taken to Lennie Dunn's flat at 3.00 a.m. on Tuesday, 20 December. Lisa and Mitchell went into the bedroom together and closed the door behind them. She stayed at Lennie Dunn's flat for four days. Mitchell made full use of his new companion, who described him as a "ruthless and demanding lover whose primitive passions electrified me." She got on well with
Frank Mitchell
and spent the night together with
Albert Donoghue
after Frank was shot and killed.
Community content is available under
CC-BY-SA
unless otherwise noted.