Mary Ann Lee (neé Houghton) was the Kray's maternal grandmother. Mother to Violet Kray, she lived nearby to the Krays at 178 Vallance Road with her husband Jimmy Lee the famous boxer and street entertainer.
She married Jimmy Lee in 1898, and the pair took lodgings in various locations around Mile End, Hackney and Bethnal Green. Their first daughter Rose was born in 1907, followed by Violet two years later, May in 1911 and finally John in 1914.
History
[
]
Born in Old Town, Mile End in October 1881, Grandma Lee as she was known by the twins, came from German and Irish parentage and whose family was from Whitechapel. She had five siblings, John, Joe, Tilly, Lilly and Lizzie. On 17 January 1898, Mary Ann Houghton married Bethnal Green street entertainer and boxer Cannonball Lee, who came from Gypsy heritage at Parish Church of Old Ford, Poplar, London.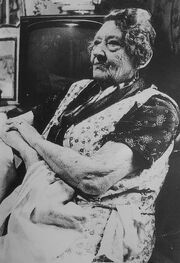 The newlywed pair soon had a son who was also called James, but he sadly convulsed died in his father's arms shortly after birth in. Joseph Lee was born in 1899 and the family moved around East London multiple times, notably Mile End, Hackney and Bethnal Green. Her first daughter Rose Lee was born in 1907, followed by Violet two years later, May in 1911 and finally John in 1914. Lee was listed as living at 137 Grove Road, Bethnal Green, London in the 1901 Census, and later 35 Chapman Road, Hackney, London in 1911, where Violet Kray was born.
The family finally settled in London Street, Bethnal Green, which ran alongside the elevated train line to Liverpool Street Station.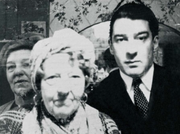 She would later tell the young twins, that when she was young in the late 1800s, she could remember Jack The Ripper's attacks being in the local news, also the Elephant Man on Whitechapel Road near the London Hospital. Her father was German, John Houghton, and her mother Ada was Irish, who once stabbed her in the forearm as a young girl with a bread knife, for cutting too much bread, still she had pain in the arm in later life and was wrapped in bandages when arthritis struck.
After their house in Vallance Road was demolished by Tower Hamlets council in 1968, Lee and her husband Jimmy Lee moved to a maisonette in Cheshire Street, Bethnal Green where she died of natural causes in the early 1970s. Jimmy Lee died in 1971, aged 95.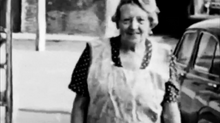 She was portrayed by Avis Bunnage in The Krays (film) in 1990.