Maureen Flanagan, best known by her professional name, Flanagan, is a former actress and an early tabloid model. In her twenties, Maureen was known as the most photographed model in Britain. Her early BBC tv appearances included roles in The Benny Hill Show, Monty Python's Flying Circus, The Dave Allen Show and Only Fools & Horses.
Flanagan shot to fame in the Seventies when she became one of the Sun newspaper's earliest Page Three girls. The Sun's editorial told readers Flanagan was 21 years old: in fact, she was 30. With a modelling career that continued well into her fifties, Maureen then became established as a celebrity fund raiser and after dinner speaker. She is an expert on London's East End and the history of the Kray twins, whose family she knew well over many decades.
History
[
]
Early life
[
]
Flanagan was born in 1941 and had to be evacuated to Hemel Hempsted but later returned to her home town of Islington. Convent educated in Holloway Rd, North London, she grew up with a younger brother & sister, along with an English mother & an Irish father.
Her christian name was Maureen & she started work in a hairdressers at 15 years old when her father died. She was spotted by a photographer aged 18 at a hairdressers convention where she'd been asked to model. He took some photos & showed them to an agent who suggested she model on the catwalk. Maureen worked for all the top fashion houses & stores, everything she tried on sold out in hours.
At 20 years old she married a local lad, Patrick Flanagan & for 3 years they lived in Camden, North London. Her agent sent her up to the BBC where she appeared on shows including Benny Hill, Monty Python's Flying Circus, The Dave Allen Show, The Likely Lads & Only Fools & Horses. She also filmed 'Dracula 72' alongside Christopher Lee. At 26 years old she was known as the most photographed model in Britain & her legs were insured for £25,000. She went to Germany to advertise cars & was then flown to Amsterdam, where she was photographed covered in diamonds, then New York to model 'Hot Pants'. She became great friends with George Best, Malcolm Allison & Barbara Windsor & filmed with Tony Curtis, Roger Moore & Charlton Heston, while taking up using the one name - Flanagan.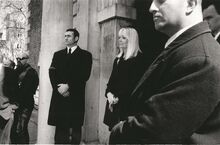 She had become Violet Kray's hairdresser & on meeting the twins & elder brother Charlie Kray, became a regular visitor to 178 Vallance Road and is now considered an expert on all Kray memorabilia, being called upon to examine items belonging to all 3 brothers at auctions. She visited The Twins regularly until they died & arranged all 3 funerals, seating everyone in the church at them all.
Career
[
]
She was encouraged to take up a career in modelling by photographer Don McCullin, who took her first modelling shots. She had an acting career in the late 1960s and early 1970s, mainly in bit parts on The Benny Hill Show, Monty Python's Flying Circus, and several British sex comedies. She also played the lead role in the Danish film The Loves of Cynthia (a.k.a. Cynthia's Sister) in 1971.
She married again in 1976, having found the East London years before through the Kray brothers & had a son, JJ, who is a DJ. Her 2nd husband, Terry Cox, died after a heart transplant & Flanagan never left the East End. Flanagan now has 3 grandaughters.
After her acting career ended, Flanagan remained in the public eye, owing to her association with the Kray Twins and her efforts to secure their release. Her involvement with the Kray family went back to her time as hairdresser for the twins' mother Violet. She also wrote the book Intimate Secrets of an Escort Girl (Everest books, 1974). The book was serialized in the magazine Tit-Bits, accompanied by a blurb which said "Britain's most photographed model lays bare the facts of her working life in the sauciest story of the year." Her memoir, One of the Family, was published in 2015.
In 1997, Flanagan made a one-off return to nude modeling as a mature woman, posing fully nude in the magazine Men's World. In the accompanying interview she said her second husband had recently died after a heart transplant operation, and that she was busy raising a 16-year-old son.