Michael "Micky" Fawcett was a member of The Firm, and was a close associate of the twins for many years. He was a trusted outsider from the Silvertown area by the Thames who became a Double R regular.
There are many photos of Fawcett in various nightclubs during the 1960s with the twins, clearly portraying his integration into The Firm.
Fawcett began associating with the twins when they owned The Double R Club. He also briefly worked as a driver for Reggie and was occasionally was given the job of driving Frances back to her home in Ormsby Street after various dates. He introduced his childhood friend, Johnny Davis to the twins. He also ran Esmeralda's Barn for a short time after the twins had finished with it.
He deliberately removed himself from The Firm as much as possible after the murders took place. After the murder of George Cornell, he and a few other members of The Firm had considered killing off the twins, but this was never done. but instead had chosen to use the public show of murder as an excuse to part ways with his former friends. Now he was ready to kill Reggie; it had all been pre-arranged. He claimed cutting himself off from the twins made him a "marked man".
Despite leaving the Firm, he was arrested in 1968 with the rest of the mob. He appeared at Bow Street Magistrates court charged with conspiracy in connection with long-term frauds. He was later discharged as has appeared in a few documentaries since, after writing a book, Krayzy Days, in 2014.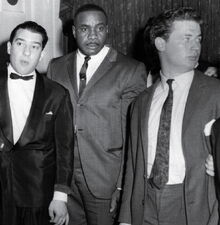 Publications
Edit
Krayzy Days, Pen Press, 230 pages, 30 July 2014
References
Edit
Bennett, John. Krayology (2015). Mango Books.
Community content is available under
CC-BY-SA
unless otherwise noted.