Leonard Ernest "Nipper" Read QPM (born 31 March 1925 - 7 April 2020) was a British former policeman and boxing administrator. He was Detective Chief Superintendent of the Met's Murder Squad in 1967, and efforts of detectives led by him were responsible for the conviction of Ronnie and Reggie Kray.
Read served as a petty officer in the Royal Navy during the war and joined the Metropolitan Police Service in 1947. He was Detective Chief Superintendent of Met's Murder Squad in 1967. Read was also a keen boxer and earned his nickname "Nipper" while training at Grundy Boxing Club. He held various positions as a boxing administrator, most notably chairman of the British Boxing Board of Control, vice president of the World Boxing Council and vice-president of the World Boxing Association.
History
[
]
Career
[
]
Leonard Ernest Read was born in Nottingham in 1925 into a Methodist family. He had two older sisters and a younger brother; however, on the death of his mother in 1929, the children were split up as their father could not cope with raising them, and so they were sent to live with various relatives until such time as Read Snr was in a position to reunite the family. Academically bright, Leonard Read excelled at school and was also keen on sports, particularly boxing, which, alongside policing, would remain his great love. After joining the Grundy Boxing Club, he won his first medal in 1937 and it was around this time that, owing to his small stature and quick reflexes, Read acquired the nickname by which he would become subsequently known to many – 'Nipper'.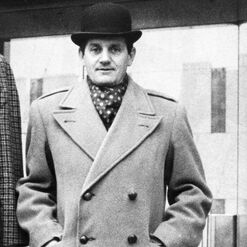 Despite success at school, Read had to leave full-time education at fourteen, for, despite passing the entrance exams, his father could not afford the books he would have needed to attend Nottingham High School; and so the young 'Nipper' got a job working for Player's in a wholesale tobacconist's warehouse, feeding tobacco leaves into a great machine that would shred them to make them suitable for cigarette production. It was hardly an auspicious start for the future Assistant Chief Constable of the Nottinghamshire Constabulary. With the inevitable disruption of the Second World War, Read, aged only eighteen, joined the Navy and served for three years before being demobbed in 1946. It was whilst in the Navy, where he reached the rank of Petty Officer and achieved a varied number of sporting accolades, that he began to seriously think about his future.
Read joined the Metropolitan Police in February 1947; his original intention had been to join the Nottinghamshire Constabulary, however, with their minimum height requirement of six feet at that time, Read was too short, and so the Met, with its height restriction being four inches less than that of Nottinghamshire, was the next best thing.
After passing his training, he was posted to North West London's D-division, which encompassed Regent's Park, Camden, Marylebone and Paddington and, from thereon, 'Nipper' Read's rise through the ranks of the Metropolitan Police was a steady one. During his time on D-division, Read showed himself to be a resourceful officer who was soon chosen to work in plain-clothes; he would also use disguises as part of his method of gathering intelligence and assisting in arrests.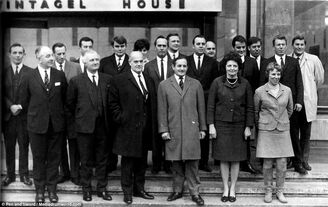 A move to the CID was a logical step, and Read applied, joining in 1948. He was initially reassigned to St John's Wood, a generally affluent district of North West London not far from his old D-division stomping grounds. After transferring to Harlesden, and then back to Paddington, Read found himself back in St John's Wood when he was promoted Detective Sergeant in 1958. More moves followed a promotion to first-class Sergeant, first to Chelsea and then back to Paddington before his promotion to Detective Inspector in 1964, at the age of 39, which saw Leonard 'Nipper' Read get his first taste of The East End at Commercial Street.
The Krays
[
]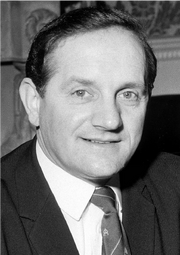 On 27 July 1964, Read, who had not been at Commercial Street that long, was approached by Area Chief Superintendent Frederick Gerrard with a 'special job'. "I want you to get a little team together and have a go at the Krays", said Gerrard.
As a detective, Read was meticulous in his methods and seemingly immune to corruption, a blight which by the 1960s would bedevil the British police force, and do so for several decades to come. When Frederick Gerrard put him on the Kray case in that eventful summer of 1964, he asked Read if he had any problem with the suggestion, to which Read replied with some irritation, "No, of course not. I don't know them." Everyone in the police knew who the Krays were, but by his own admission, Read forcefully announced that he had never had any personal dealings with them, and thus Gerrard understood that this career detective in front of him was not, and would never be, in the Krays' pockets.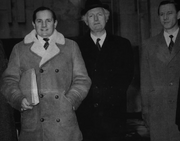 Read gathered a bespoke team of ten officers as part of his squad, taken from different divisions, and most of them, having worked with 'Nipper' at some time, had earned his trust and respect. The whole operation was to be coordinated at City Road Police Station. But first, Read realised he had to actually see what he was dealing with, to try to witness a Kray at first hand. His first successful attempt at 'Kray-spotting' took place at The Grave Maurice pub on Whitechapel Road where, according to Read's sources, Ronnie Kray was due to meet journalist Michael Barratt. The ever-efficient detective, dressed in shabby East End workman's attire, found himself a position in the bar where he could see most of the room and especially the entrance and settled down with a pint, a sandwich and a copy of the Evening News opened at the racing page. As it was just after 6.00 p.m. on a weekday, Read was the only customer. Soon after, a car pulled up alongside the wide pavement outside The Grave Maurice. Colin 'Duke' Osbourne got out and walked into the pub, looking around and surveying the scene. He checked the toilets and then went back to the car, at which point out stepped Ronnie.
Later Life and death
[
]
He has published two autobiographies with ghostwriter James Morton; Nipper 1991; and Nipper Read: the man who nicked the Krays (2001). Read passed away on the 7th April 2020, due to Coronavirus disease, having caught the virus in hospital where he was being treated for a foot infection. He passed away one week after his 95th birthday. He was survived by his second wife and his daughter Maralyn from his first marriage. The British Boxing Board of Control called him a "wonderful servant" to the sport, as well as
In popular culture
[
]
Read was parodied by Monty Python in their sketch "The Piranha Brothers", in which the Piranha brothers are caught by "Harry 'Snapper' Organs".
Read was portrayed by actor Christopher Eccleston in the 2015 film Legend.