Patrick Connolly or more commonly known as Big Pat, was a member of The Firm for many years, serving as the Kray's primary bodyguard. He was on a train to Glasgow when Scotland Yard arrested The Firm in 1968.
Despite being well photographed and documented throughout the 1960s with his time with the Krays, there is little information known about Connolly.
History
[
]
Background
[
]
Connolly was originally from Glasgow, Scotland. He moved down to England some time and then was imprisoned in Brixton Prison where he first came into contact with the twins. After his release, he began working for Reggie at the Double R Club as a part-time doorman and barman. Connolly's weight was between seventeen and eighteen stone, and he could punch his weight. He had a couple of scars on his face due to various battles he had been in, and when he and Limehouse Willy were fighting side by side, they were a good group to have amongst The Firm.
The Firm
[
]
It is known that he had no criminal record up to his time with the Krays and that he acted as 'club secretary' at The Double R Club, He was later convicted for five offences between November 1957 and February 1968, for receiving stolen goods and possession of a firearm. He also makes a brief cameo appearance in the 1962 film, Sparrow's Can't Sing, standing in the doorway of The Kentucky Club with Limehouse Willy. In a later scene, he is seen asleep on a chair inside the club.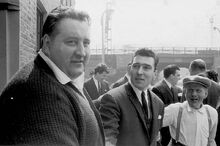 Connolly was also present when Lenny Hamilton was slashed in the toilets by Buller Ward's son Bonner in The Regency in 1959. Connolly then proceeded to tell the twins about the altercation, which in turn led to Hamilton being branded by Ronnie. Connolly frequently visited Frank Mitchell at Dartmoor Prison and later at 206a Barking Road. After splitting up from his wife, Connolly rented a front room from Winnie Harwood at 113 Evering Road, several doors up from 97 Evering Road, where the murder of Jack McVitie took place several months later.
Arrest and later life
[
]
He was allegedly on a train to Scotland when the twins and The Firm were arrested in 1968 and by 1969 he was living in Auckland Street, Glasgow. He allegedly then married in 1970 and had a daughter in 1971. He passed away in 1996 in Glasgow, Scotland.
He was portrayed by Adam Fogerty in Legend, 2015, who strangely spoke with a Northern accent, instead of a Scottish one.
References
[
]
Bennett, John. Krayology (2015). Mango Books.