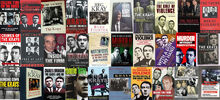 Here is a list of all known resources on the Krays:
Written by The Krays
Edit
Born Fighter
East End Stories
A Way of Life
Thoughts: Philosophy and Poetry
Book of Slang
My Story (Also includes a chapter by Kate Kray)
Doing the Business
The Krays and Me
Men of Violence: The Twins
Free at Last: The Twins
Written by others
Edit
The following books are written about the Krays by other individuals. This list will continue to be updated. Please note: not all books are legitimate sources of factual information and may contain biased opinions, false information, or unconfirmed facts/rumours. Read at your own discretion.
The Krays and Me: Doing Porridge with the Krays by Charles Bronson
Ronnie Kray: A Man Among Men by Laurie O'Leary
Krayzy Days by Micky Fawcett
Getting Away with Murder by Lenny Hamiliton
The Krays: A Violent Business by Colin Fry
The Krays: The Final Countdown by Colin Fry
Kray Twins Walk: London East Gangland Tour by Paul Kenneth Garner
Calling Time on the Krays: The Barmaid's Tale by Mrs. X
From the Cradle to the Grave by Wayne Lear
Inside the Firm by Tony Lambrianou
Escape from the Kray Madness by Chris Lambrianou
The Enforcer: Secrets of My Life with the Krays by Albert Donoghue and Martin Short
The Krays: Their Life Behind Bars by Robin McGibbon
The Krays: Unfinished Business by Martin Fido
Running with the Krays by Riley Webb
Inside the Kray Family by Joe Lee and Rita Smith (the Twin's cousins)
Bringing Down the Krays by Bobby Teale
Murder without Conviction by John Dickson
The Profession of Violence by John Pearson
The Cult of Violence by John Pearson
Notorious by John Pearson
The Krays: Not Guilty Your Honour by J.H. Gaines
Frances: The Tragic Bride by Jacky Hyames
One of the Family: 40 Years with the Krays by Maureen Flanagan
Documentaries
Edit
To be added.
www.thekrays.co.uk
www.untouchablekrays.tumblr.com
Community content is available under
CC-BY-SA
unless otherwise noted.