Ronald 'Ronnie' Bender (1938 - 13 September 2004) was a significant member of The Firm during the later part of the 1960s. Bender was Ronnie Kray's personal chauffeur and drove him to the flat where Jack McVitie was murdered.
An ex-soldier, Bender was present at Jack McVitie's murder but took no part, but helped dispose of the body in Rotherhithe. He was subsequently given a twenty-year sentence at the Kray trial as a consequence, aged thirty. He served eighteen years of the sentence.
History
[
]
Background
[
]
Ronald Bender originated from the Isle of Dogs. He once held the position of Acting Sergeant during his National Service and had worked for the Dock Labour Board since 1960. Bender had also served in the 22nd Special Air Service Regiment.
After a back injury, he joined The Firm around 1965 as a driver. Lenny Hamilton remained a close friend of Bender and described him as "a big, strong man. He was not violent and if he couldn't do you a good turn then he certainly wouldn't do you a bad one." It is known that around the time he joined The Firm, he did not have a criminal record.
Jack McVitie's Murder
[
]
Bender owned the carving knife that Reggie used to kill McVitie. After The Murder of Jack McVitie, Tony and Chris Lambrianou and Ronnie Bender were responsible for clearing up the scene after the murder and disposing of the body. McVitie's body was too big to fit in the boot of the car, so the body was wrapped in an eiderdown and placed across the back seats. Tony Lambrianou drove the car with the body and Chris Lambrianou and Bender followed closely behind in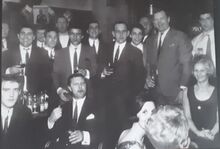 another car. After briefly loosing each other, Bender eventually found Tony, outside St Mary's Church, Rotherhithe. Tony had run out of petrol and still had McVitie's body in the back of the car. The body was then left in the car outside the church, and Bender returned back home.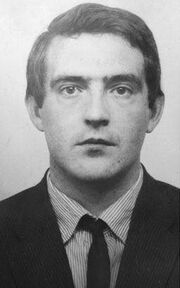 Bender then rang Charlie Kray and informed him that McVitie's body had been dealt with. After finding out the location of McVitie's body, the twins were angry and attempted to call Freddie Foreman, who was running The Prince Of Wales in Southwark, to see if he could dispose of the body. Bender was living in Cubitt Town, Poplar at the time of his arrest.
Later life
[
]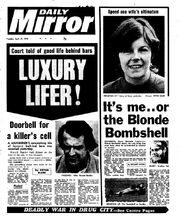 Imprisonment
[
]
Whilst in prison he featured in several news articles about his supposedly luxurious life behind bars. He served time in Chelmsford Prison in 1970, where he allegedly ran his own firm behind bars. After he was released from prison, it was alleged that he was very institutionalised, and remained indoors for long periods of time with his wife Buddy.
Death
[
]
Living close by to his good friend Lenny Hamilton, he passed away on the 13th September 2004, aged 66.
Bender was portrayed by Stephen Thompson in Legend, 2015.
References
[
]
Bennett, John. Krayology (2015). Mango Books.