Rose Wiltshire (formerly Lee) was the sister to Violet Kray and the maternal auntie to the Kray twins.
Her death from leukaemia had a profound effect on Ronnie Kray (who was very close to his aunt) and states his mental illness was triggered by her death in 1955 when he was twenty-two years o
Hee hawRose was born in 1907 and was the first daughter to Jimmy Lee (1877-1971) and Mary Lee (b. 1867). Shortly followed by Violet two years later, May in 1911 and finally John in 1914.
In 1927, Rose Lee married William Wiltshire in Shoreditch and shortly gave birth to a son named William, where they stayed with Jimmy and Mary, the twin's maternal grandparents on London Street. Aunt Rose was known for her aggressive attitude and was often caught up in fights around the local area in Bethnal Green, and she often stuck up for the twins if they were involved in fights or criminal activity. When Ronnie was teased in school about his eyebrows being too close together, she told him that it was a sign that he was 'born to be hanged'. Her anti-authority attitude and larger than life character made her the twin's favourite.
During the 1960s, Violet's sisters Rose and May lived either side of her in Vallance Road, her brother Jimmy slept downstairs in the living room, while Grandad Jimmy 'Cannonball' Lee, Grandma Lee and their son John and his wife lived across the road in the cafe they owned. Aunt Rose was living with her husband and son next door to her parents in a flat at 45 Dunbridge Street (as London Street had been recently renamed).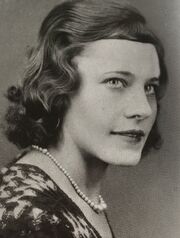 Death
[
]
It had been known by the family for two years that Aunt Rose was ill with leukaemia and she passed away on Christmas Day 1955. The news of her death was reportedly kept from Ronnie but whilst in a psychiatric unit himself, he was put in a straight jacket after reacting to the news badly, after Reggie had written to him. Rose was portrayed by actress Susan Fleetwood in The Krays (film) in 1990.