St James The Great Church is a large red brick church located on Bethnal Green Road, East London. It was the place where Reggie Kray and Frances Shea married on 19th April 1965.
History
[
]
The "Red" church, as it was once known, was built in 1844 by Edward Blore, a master architect of his day who completed work on Buckingham Palace when it was expanded, restored Lambeth Palace and worked on Westminster Abbey & St James' Palace. The church of Saint James the Great was constructed between 1840 and 1844; designed by E. Blore in an Early English style.
A district was assigned in 1844. Incumbent Edward Coke offered marriages for the fee of 7 pence, causing rowdy scenes as young couples got married in batches. He also raised many funds, founded a dispensary, a visiting society and a Sunday School. In 1951 the parish was united with Saint Jude (P72/JUD), and in 1969 with Saint Matthew (P72/MTW) and Saint Peter (P72/PET) in a team ministry. In 1984 Saint James the Great with Saint Jude united with Saint Matthew. The church was converted for residential use. From: 'Bethnal Green: List of Churches', A History of the County of Middlesex: Volume 11: Stepney, Bethnal Green (1998), pp. 217-226. In 1865, the Reverend E F Coke made the church the first in London where poor couples could get married for free. It survived the blitz during the Second World War and more recent redevelopment in the area. The church served from 1844 to 1987, when it closed and was converted into housing.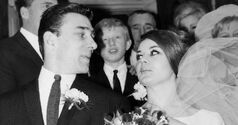 Reggie and Frances' wedding
[
]
On 19th April 1965 Reggie Kray married Frances Shea in St James the Great Church. It was the East End's wedding of the year. Many famous boxers of the time attended the ceremony and it was packed with high profile guests, the event was captured by photographer to the stars David Bailey — on his only ever wedding assignment.
Two years after the wedding the church was used for the bride's funeral when she had committed suicide. There were ten black limousines for the mourners and many wreaths, including one from Ronnie Kray (who was on the run from the police at the time) and three from Reggie Kray.
The building features in the film Legend as the Kray brothers, both played by Tom Hardy, sit in the famous E. Pellici's café opposite.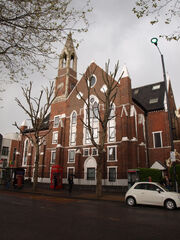 Present Day
[
]
Now converted into apartments, a flat recently came up for sale in 2017 for £365,000.