The Shootout at Mr Smith's was an iconic gangland fight, that happened at Mr Smith's nightclub in Rushey Green, Catford, South East London.
It occurred on the 7th of March 1966 and the gangland battle took place inside the club, where Richard Hart was killed, leaving many others shot and injured, subsequently acting as a catalyst for George Cornell's death the following day.
The Shootout
Edit
In the early hours of 8th March 1966, A large fight broke out between Richardson gang members and another London gang led by Billy Hayward. Kray-associate Dickie Hart, who was with the Hayward gang that night, was shot dead outside the rear doors trying to escape. Allegedly killed by Richardson gang member Frankie Fraser.
Background
Edit
Mr Smith's was owned by Manchester-based businessmen Dougie Flood (a club/hotel/leisure business owner and alleged member of the Quality Street Gang) and Bill Benny. They had asked the Richardson gang to "protect" the club in exchange for gaming machines being placed there. They had a meeting with Eddie Richardson and Frankie Fraser that day to discuss the terms of their contract. When the deal was done they all went to the club for a celebration drink. Frank and Eddie couldn't stay too long because they had other business to attend to but the owners suggested that they should come back later for a meal and a few drinks.
7th March 1966
Edit
Later that evening Frankie Fraser and Eddie Richardson came back to the club with Harry Rawlings and Ronnie Jeffreys, and by the end of the evening, they were joined by more of the Richardson gang including Jimmy Moody and a friend of his. Also in the club were Billy Hayward, Henry Botton, Peter Hennessey, Dickie Hart a member of the Firm, and some others, most of them known to Frank and Eddie. More of the Richardson gang arrived later. Billy Hayward thought that something was going down so he sent out for some weapons. He may have mistaken this gathering of the Richardsons as retribution for having an affair with the wife of Roy Porritt, Frank and Eddie's mechanic. The fact that the Richardsons were not tooled up would lead to believe that they were only at the club socialising.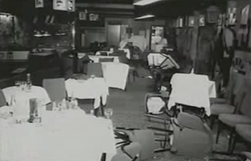 Eddie Richardson had asked Billy Hayward and his mob to 'drink up and leave' as it was 3.30am and the club was only licensed till 3 am. One of the mob, Peter Hennessey took offence to the request and started fighting with Eddie Richardson. Dickie Hart took out a gun and started shooting up the place, shouting: "Somebody's going to die." Regardless, all hell broke loose with people running chairs flying about and shots being fired. According to accounts, Dickie Hart shot Harry Rawlings in the shoulder and he was bleeding profusely. Jimmy Moody and Ronnie Jeffreys were trying to get him out of the club while Frankie Fraser was trying to calm down Dickie Hart. Frank got shot in the leg but managed to knock the gun out of Dickie's hand. Frankie had to keep quiet about what happened next but the fight ended with Dickie Hart shot dead and Frankie and Eddie in a hospital bed with gunshot wounds
Aftermath
Edit
The shootout led to nearly all the Richardson Gang being arrested. Frankie Fraser was charged with the murder of Dickie Hart and was found not guilty. However. he and Eddie were charged with Affray and received 5 years in prison.
George Cornell was shot the night after, in The Blind Beggar public house, by Ronnie Kray, allegedly as a revenge killing.
Main article: The Murder of George Cornell
Community content is available under
CC-BY-SA
unless otherwise noted.