The Boothby Affair was an exposé that occurred in July 1964, involving Ronnie Kray and Lord Boothby, a Conservative, Eton-educated former MP for East Aberdeenshire and a former private secretary to Winston Churchill.
Enugu, Nigeria
Edit
Ronnie Kray had attempted to invest thousands of pounds in a doomed project that was to see him and his brother catapulted into the media spotlight which led them to believe that they were 'untouchable'. The project consisted of a major housing and factory development in Enugu, Nigeria.
The project had been touted around for quite a while by Ernest Shinwell son of Manny Shinwell, Labour MP, with no takers. Leslie Payne, the Twins business manager took the project up and convinced Ronnie and Reggie that it would be a good investment if they joined the Consortium. During negotiations with Shinwell Ron was wined and dined at the Houses of Parliament. It was here that he was first introduced to Lord Boothby, a bisexual, flamboyant man who had declared that he was not quite sure if he preferred young boys or young girls. The Twins and their fellow members made many visits to the development site during the ensuing months. In the beginning, they were treated like royalty and met all the local dignitaries and ministers of the region, and on one occasion Ron was given a tour of the local jail and even had his photo taken with a warder.
On another trip to Enugu, Leslie Payne and Freddie Gore were arrested and Gordon Anderson and Charlie Kray had their passports confiscated until they could come up with £5,000 said to be the amount of money owed to one of the contractors involved in the project. Charlie contacted his brothers who raised the cash to secure their release. The problem with this long distance investment project was that the Twins had no real control of the finances and how it was being spent and had to put their 'trust' in others.
Lord Boothby
Edit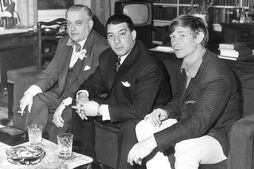 As time passed the project and its funds were slowly disappearing, and more investors were needed to keep the project afloat. Ron then approached Lord Boothby, where soon the pair became great friends, mainly through their mutual love of young men and illicit sex. A meeting was set up by Boothby's gay lover Leslie Holt, cat burglar by profession and Ron Kray with the hope of persuading Boothby to invest in the Enugu project.
Also present was "Mad" Teddy Smith another homosexual and friend of Tom Driberg MP. Smith was later involved in the escape of Frank Mitchell and his imprisonment until the time of his death. This meeting, which was photographed, was to have repercussions later on that involved the Prime Minister, Harold Wilson. A leading newspaper got hold of the association with Boothby and Ron Kray and ran an article about 'The Peer and the Gangster'. They didn't name names but it was quite clear who the main contenders were, The Mirror newspaper printed the whole story that left no doubt who was involved. Although no names were printed in the piece, the twins threatened the journalists involved, and Boothby threatened to sue the newspaper with the help of Labour Party leader Harold Wilson's solicitor Arnold Goodman (Wilson wanted to protect the reputation of Labour MP Tom Driberg, a practising homosexual known to associate with both Boothby and Ronnie Kray, just weeks ahead of a pending General Election which Labour was hoping to win).
Boothby, on holiday in France when the story broke, knew he was in trouble and telephoned his friend Driberg. Prime Minister Harold Wilson knew about the love lives of his two wayward MPs and took matters into his own hands to protect himself and his position so he appointed a top QC who advised Boothby to sue the Mirror, in the face of this, the newspaper backed down, sacking its editor, printing an apology and paying Boothby £40,000 in an out-of-court settlement. Because of this, other newspapers were unwilling to expose the Krays' connections and criminal activities.
The police investigated the Krays on several occasions, but the brothers' reputation for violence made witnesses afraid to testify. There was also a problem for both main political parties. The Conservative Party was unwilling to press the police to end the Krays' power for fear that the Boothby connection would again be publicised, and the Labour Party, in power from October 1964, but with a wafer-thin majority in the House of Commons and the prospect of another General Election needing to be called in the very near future, did not want Driberg's connections to Ronnie Kray (and his sexual predilections) to get into the public realm.
Boothby was also having an affair with Harold Macmillan's wife Dorothy and made her pregnant. He later got married and pushed his homosexual acquaintances and activities into the background.
Aftermath
Edit
Hew McCowan, owner of the Hideaway club and the son of a baronet was also approached for money. The Krays say that he was asked to invest in the Enugu Project but McCowan insists that it was nothing more than an attempt to extort money from the profits of his club. The Twins were arrested in January for demanding money with menaces and had spent more than five weeks in prison when Lord Boothby stood up in the House of Lords and spoke on their behalf, where they were eventually acquitted.
Months later McCowan's club became Kray property and was renamed the El Morocco. Leslie Holt later took up with a Dr. Kells who supplied him with customers for his cat burglary business. Things worked quite well until the police became suspicious of the double act. Holt later died while being operated on by Kells for a foot complaint. Dr. Kells was charged with murder but, mysteriously, was acquitted, with Teddy Smith disappearing in 1968, never to be heard of again.
Documentary
Edit
Channel 4 established the truth of the allegations and released a documentary on the subject called The Gangster and the Pervert Peer (2009).
Community content is available under
CC-BY-SA
unless otherwise noted.