The Britannia was a Watney's public house, situated behind Shadwell station. It was the place where Ronnie Kray assaulted a rival gang member Terry Martin in 1956, subsequently leading to his arrest for GBH later that year.
The Britannia was situated at 44 Morris Street. This was a Watney's pub and it was established by 1891. The pub was run by Alfred Weeks and had been in the same family since 1876 and would do so until 1983. It closed in 2005 and was converted into a fried chicken fast food outlet. The pub sign at the top of the building on the corner still remains.
In 1956 the local Watney Streeters - most of them dockers, descendants of an earlier Watney Street gang who defended their patch against rivals from Bethnal Green - were involved in brawls with the Kray twins and their associates. 'Their' pub was the Britannia, at 44 Morris Street (run by Watney's Brewery, by coincidence), a few yards behind Watney Street: here Ronnie Kray bayonet-stabbed Terry Martin, a member of the gang, while the rest escaped through the back door.
In retaliation they beat up Billy Jones, who ran a West End club, which in turn led to one of their leaders, Charlie, being 'worked over' by Bobby Ramsey at The Artichoke in Stepney Way (From sgite.org.uk). Ronnie Kray was convicted and served three years in jail for GBH and firearms possession after this incident.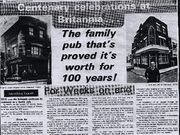 In 1991, like many small, run-down pubs in the area, it was acquired by Belhaven and in 2005, after over 100 years of trading as pub, it closed and was converted into a fast food fried chicken shop.
Community content is available under
CC-BY-SA
unless otherwise noted.