The Hideaway (displayed as Hide-A-Way) or also known as El Morocco, was a club in Gerrard Street, Chinatown. The Kray twins bought and owned it in 1965, inviting many celebrities such as Adrienne Corri, Edmund Purdom and Barbara Windsor.
History
[
]
Around 1964 a wealthy man named Hew McGowan bought the nightclub in Gerrard Street (now within the main part of Chinatown in London). Originally it was called the Bon Soir he hoped to refurbish it and that Christmas reopen it under the new name of the Hideaway. It was said that McGowan offered the Kray twins, who were wanting to extend their influence into the West End, 20% percent of the venture.
To the great displeasure of the two East End gangsters and a huge disregard for his own safety McGowan reneged on the deal. Not surprisingly it wasn't long before the Twins were demanding money with menaces from the Hideaway's owner. It was with surprise, however, that McGowan went to the police and the Twins were arrested. Despite the thirty-one year old twins offering sureties of £18,000, bail was refused and they were remanded in custody to Brixton prison.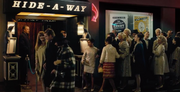 After three trials and almost certain extensive jury nobbling the twins were eventually found not-guilty. This they celebrated by buying the Hideaway nightclub, changing its name to El Morocco and throwing a big party actually at the club.