...an encyclopedic guide to gangland activity in 1960s London. A multitude of information about The Kray Twins is available, and before the creation of this wiki, information about the gangsters featured was sparse and hard to find, but this wiki hopes to collect all the facts and key dates together, in one place... Any photos and key information such as correct birth/death dates and locations are welcome, please feel free to edit and add!
"Ronnie Kray" was a gangster in 1960s London, twin brother to Reggie Kray and a one man mob. With his brother, The Kray Twins were the foremost perpetrators of organised crime in the East End of London during the 1950s and 1960s. Ronald Kray was found guilty of the murder of George Cornell and sentenced to thirty years in prison. He was recertified insane and died in Broadmoor Hospital in March 1995 aged 61.

READ MORE

"Reggie Kray" was a gangster in 1960s London, twin brother to Ronnie Kray. Known to be the more level-headed and less volatile twin one of the two, Reggie married Frances Shea in 1965 and killed Jack McVitie in 1967 and subsequently spent 33 years in prison for the murder. Reggie was released from prison on compassionate grounds in August 2000, eight and a half weeks before his death from bladder cancer, aged 66.

READ MORE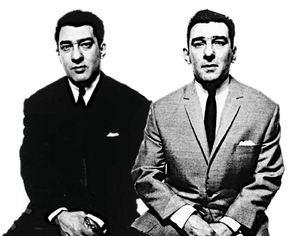 SEE MORE

Krayology
Krayology is a 2016 book by John Bennett. Looking at the rise of the Kray twins with an historian's eye, using a range of sources from memoirs, press reports and significantly, official files held at the National Archives and elsewhere, John Bennett takes a fresh approach to the Kray legend.
Read more or see the archive.
The Kray Twins were two prolific East End gangsters in London during the late 1950s and 1960s. Disclaimer: Violence of any sort is not encouraged by wiki owner(s). Do not send hateful messages, as this is a wiki ABOUT them, not a wiki which praises nor condemns them.
We are currently housing
188
articles, and
938
files.
We need YOUR help expanding and adding articles to the wiki! If you're new to Wikia, please take a moment to read the Wiki tutorial before getting started.
If you're new to this wiki, please observe our Policies and guidelines, and if you get stuck feel free to check in at the help desk.
---
---
If you've read the tutorial or already have editing experience, and you have an article relating to The Kray Twins to contribute, you may use the box below to create it:
<createbox>width=30</createbox>