The Lion also known as The Widow's was a Victorian public house situated at 8 Tapp Street, off Brady Street. The Lion was a Truman's pub close to Bethnal Green overground station that was closed and converted into housing in 2002 after increasingly decreased footfall.
History
[
]
This pub had been established in the 1850s and for most of its history was a Truman's Brewery house. Somewhat of a backstreet pub, the pub was amongst the poorest of Bethnal Green's Victorian slums.
1960s
[
]
In the 1960s the Lion was known as the Widow's as it was run by the widow of the previous licensee whom was commonly known as Marge, a slim and tall red haired lady in her early fifties and was always very well dressed. She was like a second mother to the twins, as the pub was just round the corner from 178 Vallance Road. Never a particularly enticing place, it was briefly run in the late 1960s by the Krays and was described as "dingy and evil-looking". The Krays had something of a monopoly over the pubs around Bethnal Green, and would usually go in and start using a pub, get friendly with the landlord, and invite other members of The Firm in. They would help the bar staff out with money for stock and the management would let them use rooms, until eventually, they had almost complete rein.
The Richardson gang were believed to be planning a raid on the pub (where it was thought the Krays had a weapons store) in 1966, but the Krays got in first with a pre-emptive strike on Mr Smith's club in Catford; but Kray gang member Richard Hart was killed in the process.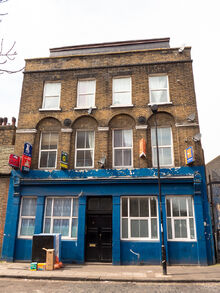 On thr 9th March 1966, Ronnie Kray was drinking heavily at The Lion when he recieved a phone call message that Richardson gang member George Cornell (also a former associate of theirs) was drinking nearby at The Blind Beggar and he set out from here to have his revenge. Ronnie suddenly announced that he was 'gonna do Cornell' and proceded to get in the car with Ian Barrie, drove to 178 Vallance Road to get his gun, and then the short distance to the pub. After the shooting, Ronnie then returned to the Lion to finish his pint, where the group then drove to The Chequers.
Recent years
[
]
The pub's Kray association lasted into the 1970s and it is said that this was a 'no-go' area for the police in those days. The pub struggled on until its closure in 2002. It is now in private residential use with the To Let signs almost always on the frontage. There is still a Truman's notice board on the north side of the building facing the railway. Manor Taxis now use the side of the pub underneath the railway arch as a taxi rank.