The Murder of George Cornell was an event that occurred on the night of 9 March 1966. Ronnie Kray walked into The Blind Beggar pub in Whitechapel and shot George Cornell. The event has gone down in history as one of the most prolific gangland incidents in criminal history.
The pub still stands today and is a minor East End tour attraction. Cornell's death, in combination with The Murder of Jack McVitie, ultimately led to the twins conviction and imprisonment.
Events preceding his death
Edit
Ronnie Kray was renowned for never liking The Blind Beggar.
"...a big ugly building in a very poor part of London. Not the sort of place you'd want to take a lady friend for a quiet drink or a business contact to clinch a big deal. It was simply the kind of pub where the poor people in that part of London would go for a drink to drown their sorrows, to have a knees-up on Saturday nights and pretend they were feeling happy."
―Ronnie Kray, Our Story 1988
A childhood friend of the Kray twins, Cornell was a prominent criminal in east London during the 1960s. Upon moving to South London he joined up with the Kray twins' rivals, the Richardson Gang, led by brothers 
Charlie Richardson
 and 
Eddie Richardson
.

Murder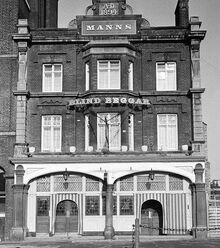 On 9 March 1966, Cornell and his friend Albie Woods entered the Blind Beggar pub, ordered some light ales and then sat upon stools next to the bar. At around 8:30pm, both men were approached by
Ronnie Kray
and a Kray associate,
Ian Barrie
; upon seeing him, Cornell smiled and said sardonically, "Well, just look who's here". As a warning to the barmaid and the few others in the pub, Barrie fired two shots into the ceiling, while Kray walked towards Cornell, took out a 9 mm Luger, and calmly shot him once in the top of the forehead, above his right eye. The men turned and departed to a waiting car on the street.
Cornell slumped against a nearby pillar, the bullet, apparently, passing straight through him. He was taken to a nearby hospital, where he died at around 3:30am.
The news spread rapidly. Although
Ronnie Kray
was identified by several eyewitnesses as he calmly left the public house, no one would agree to testify against him and the police were forced to release him from custody. Cornell was buried in Camberwell New Cemetery, south London.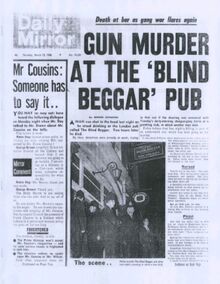 Old Bailey trial
Edit
On 4 March 1969, Ronnie Kray was unanimously found guilty by a jury at the Old Bailey of the murder of George Cornell. His brother Reggie was also found guilty of murdering Jack McVitie, who was killed the year after Cornell. They were both sentenced to life imprisonment.
Ronnie Kray died in jail in March 1995, while Reggie Kray was imprisoned for a total of 32 years before he was released from custody on compassionate grounds in August 2000 as a result of cancer, from which he died a few weeks after his release.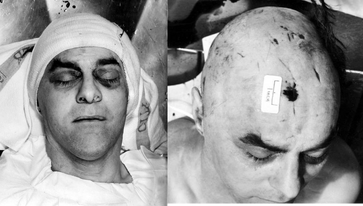 Community content is available under
CC-BY-SA
unless otherwise noted.