Thomas Edward Neil Driberg, Baron Bradwell (22 May 1905 – 12 August 1976) was a British journalist, politician and High Anglican churchman who served as a Member of Parliament (MP) from 1942-55, and from 1959-74. A member of the British Communist Party for more than 20 years, he was first elected to parliament as an Independent, and joined the Labour Party in 1945. He never held any ministerial office, but rose to senior positions within the Labour Party and was a popular and influential figure in left-wing politics for many years.
The son of a retired colonial officer, Driberg was educated at Lancing and Christ Church, Oxford. After leaving the university without a degree, he attempted to establish himself as a poet before joining the Daily Express as a reporter, later becoming a columnist. In 1933 he began the "William Hickey" society column, which he continued to write until 1943. He was later a regular columnist for the Co-operative Group newspaper Reynold's News and for other left-leaning journals. He wrote several books, including biographies of the press baron Lord Beaverbrook and the Soviet spy Guy Burgess. He retired from the House of Commons in 1974, and was subsequently raised to the peerage as Baron Bradwell, of Bradwell juxta Mare in the County of Essex.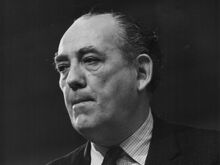 Driberg made no secret of his homosexuality, which he practised throughout his life despite its being a criminal offence in Britain until 1967; his ability to avoid any consequences for his risky and often brazen behaviour baffled his friends and colleagues. Always in search of bizarre experiences, Driberg befriended at various times the occultist Aleister Crowley and the Kray twins, along with honoured and respected figures in the worlds of literature and politics. He combined this lifestyle with an unwavering devotion to Anglo-Catholicism. After his death, allegations were published about his role over many years as an MI5 informant, a KGB agent, or both. The extent and nature of Driberg's involvement with these agencies remain uncertain.
The Krays
Edit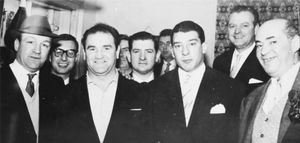 Driberg embraced enthusiastically the climate of the 1960s and the social and cultural freedoms that the decade introduced. In 1963 he met the Kray twins, prominent London gangland figures, and began a lengthy friendship with them and their associates. In July 1964 two backbench Conservative MPs reported to their Chief Whip that Driberg and Lord Boothby (a well-known Conservative peer) had been importuning males at a dog track, and were involved with gangs of thugs.
At parties which Driberg and Boothby attended at the Krays' flat, "rough but compliant East End lads were served like so many canapés", according to Wheen. While Driberg avoided publicity, Boothby was hounded by the press and forced to issue a series of denials. After the twins had been convicted of murder in 1969, Driberg frequently lobbied the Home Office about their prison conditions, requesting that they be given more visits and allowed regular reunions. Driberg was alleged to have been in a relationship with Teddy Smith.
Community content is available under
CC-BY-SA
unless otherwise noted.