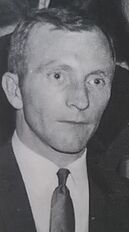 Thomas "Tommy" Patrick Cowley (1936-1982) also known as Little Tom was a member of The Firm for a brief period of time. He was a small redheaded man, who had a number of convictions for burglary and keeping illegal gaming houses, and had a certain amount of knowledge when it came to the workings of business.
Cowley was a regular patron of Winston's nightclub in Clifford Street, Mayfair, and knew many of its hostesses. He was responsible for involving Lisa Prescott in the Frank Mitchell affair. Cowley was brought in to see if he could recommend one of the young ladies for the job of being Mitchell's 'companion'.
Cowley knew just the woman, an attractive, "plumpish" blonde from the North of England named Patricia Watson. Until now, this key player in the Mitchell affair has been known as Lisa Prescott, and she was known to all involved as 'Lisa' or 'Liza'. Her flatmate knew her as Lisa Polowski. In October 1967, Cowley drove to warn Freddie Foreman about the body of Jack McVitie being dumped outside his pub, The Prince of Wales, in South London.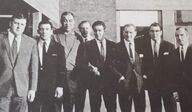 Cowley was a close friend of Charlie Kray and worked with the twins on business dealings, and worked occasionally as a driver. Author, John Pearson described him as one of the shrewdest members of the Firm. He was arrested in 1968 with the rest of The Firm, and was charged with two counts of conspiracy to commit murder. He was not prosecuted with these charges, as he was not featured in the Kray trial in 1969. It is alleged he died in early 1982 aged 46, of cancer, in Hackney, London.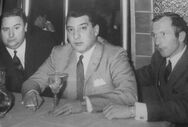 Community content is available under
CC-BY-SA
unless otherwise noted.