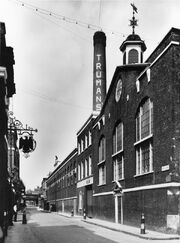 Truman's Brewery was a large East London brewery and one of the largest brewers in the world at the end of the 19th century. Founded around 1666, the Black Eagle Brewery was established on a plot of land next to what is now Brick Lane in London, E1. It grew steadily until the 18th century when, under the management of Benjamin Truman, and driven by the demand for porter, it expanded rapidly and became one of the largest brewers in London. Its growth continued into and through the 19th century with the expansion of its brewery and pub estate. In 1873, it purchased Philips Brewery in Burton and became the largest brewery in the world.
The situation changed for Truman's in the 20th century as it had to come to terms with the rise of lager, cheaper competition from imports and the consolidation of the biggest names in British brewing through mergers. Attempts to come to terms with these changes through management restructures and rebranding did not succeed, and in 1989 the brewery was closed.
The Truman's brand was revived in 2010 and, since 2013, beer is again being brewed in East London under the Truman's name.
Community content is available under
CC-BY-SA
unless otherwise noted.