"Mum you are like a rose. When God picked you, you were the best mum he could have chose. You kept us warm when it was cold with your arms around us you did fold. For us, you sold your rings of gold. When you died, I like a baby cried, when I think of you it is with pride, so go to sleep mum I know that you are tired."
―Ronnie Kray's poem to his mother in his autobiography My Story, 1993
Violet Anne Kray (neé Lee) (5 August 1909 – 4 August 1982) was the mother of Reggie, and Ronnie Kray. She married Charles Kray in 1926 and the family lived at 178 Vallance Road, Bethnal Green until they moved to 43 Braithwaite House in the late 1960s.
Famously adored by the twins, she was an important figure in both of their lives. She passed away on 4 August 1982 aged seventy-three, and the twins were allowed out of prison to her funeral, being seen for the first time since their arrest and conviction in 1969.
Early Life
[
]
Violet Lee was born in London Street, Bethnal Green in 1909 of Irish and Jewish descent. London Street (later renamed Dunbridge Street) remained a frequent location for the Lee family for many years and ran alongside the elevated train line to Liverpool Street Station. At the time of the 1911 Census, Violet was listed as living at 35 Chapman Road, Hackney.
Her father, Jimmy "Cannonball" Lee, was a well-known East End character who had been a boxer, juggler, a poet and a street entertainer. In addition to Violet, he had two other daughters, Rose Lee and May Lee, and a son, John Lee, with Violet's mother, Mary Houghton. Violet Lee allegedly looked similar to her sister May and had the same temperament to Rose. She was nicknamed 'Doodle' or Violi by her family. A rebellious young woman, she soon met Charles Kray who was two years older than her.
Charles and Violet married on the 6th March 1926 and Violet had lied about her age as she was not yet the legal age. The pair had sneaked off to the registry office in Kingsland Road with Charlie's friend and close neighbour Harry Hopwood as his best man. Jimmy Lee took the wedding badly, as he did not want his daughter associating with a Kray, damaging the relationship between the two of them.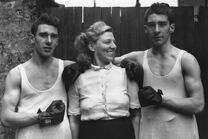 Violet could no longer live with her family after the wedding and so the newlywed couple moved to Hoxton where they stayed with Charlie's aunt Betsy and her husband George Cook at Charlie's childhood home at 40 Gorsuch Street.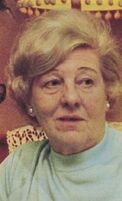 Violet was pregnant at this time, so it is assumed this is why the marriage was done quickly and in secret. On the 9th July 1926, four months after the wedding, she gave birth to her first son, Charlie Kray Jr. In December 1929, she gave birth to a baby girl, who passed away hours old. On Tuesday 24th October 1933, she gave birth to twins. Reginald arrived at 8.00p.m. and Ronald came ten minutes later.
Charles Kray was often absent during the children's upbringing, as he was on the run from the army. Reggie later stated in My Story, that Violet once had to pawn her wedding ring in order to put food on the table for the family.
She was known to many people as "salt of the earth", kind and generous and hospitable to guests. She worked as a housewife as Charles Kray dealt clothing for a profit. She attended many of the twins clubs during the 1960s and can be seen in many photos of this time.
Death and funeral
[
]
Violet died of a heart attack, after being ill for quite some time on 4 August 1982 aged seventy-two in her flat in Bunhill Row, Shoreditch. The twins were, almost obsessively, devoted to their mother and were let out of prison to attend her burial. The cost of policing the event was estimated at £30,000. Ronnie and Reggie Kray were allowed, under tight security, to attend the funeral of their mother Violet at Chingford Mount Cemetery in East London on 11 August 1982 after her death from cancer. They were not allowed to attend her burial in the Kray family plot. The funeral was attended by celebrities including Diana Dors and underworld figures known to the Krays, such as James Kemmery.  Crowds started to collect outside Violet Kray's flat in Shoreditch at 8 a.m. The first wreaths were laid out on the pavement in front of the council flats where she died on Thursday 4 August 1982, the day before her 73rd birthday. There was a floral cross from each of the twins. Ronnie wrote a simple message: "Mum, the most beautiful woman in the world, love Ron."
It has been said that Charles died of a 'broken heart' and passed away just seven months later on 8 March 1983. Charles and Violet had been married for over fifty years and they were both buried in the same grave in Chingford Mount Cemetery; Section number B8; Grave number 70707. To avoid the publicity that had surrounded their mother's funeral, the twins did not ask to attend their father's funeral in March 1983.
Legacy
[
]
In The Krays (film), 1990, Violet was played by Billie Whitelaw, and it ends with her funeral and a scene in which each twin is shown by the graveside (not filmed at the actual location) handcuffed to a prison warden, in reality, the twins were not allowed to their mother's graveside. Violet was portrayed by Jane Wood in Legend (2015).
References
[
]
Bennett, John. Krayology (2015). Mango Books.