Wood Close School, now known as William Davis Primary School is a primary school in Cheshire Street, Bethnal Green, East London. It is a short distance from Brick Lane and 178 Vallance Road, the Krays former home. Outside the school is The Carpenters Arms, a pub once owned by the twins.
After attending here, the twins went to Daniel Street School.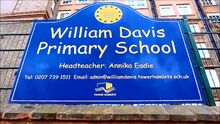 In 1938, the twins first attended Wood Close School in nearby Cheshire Street. A large 1900 style building, it was built by the London County Council Board Schools. The twins remember singing hymns and having rest periods on small camp beds. After getting in a scrap one break time with a boy called George Tappin, Reggie was told by his brother Charlie to start boxing.
Bullet holes from the murder of Ginger Marks by Freddie Foreman can be seen on the school wall, underneath the sign on Cheshire Street, near The Carpenters Arms.
Community content is available under
CC-BY-SA
unless otherwise noted.